The Rioja Bike Race will have one more day of competition
The international competition is extended one day and La Rioja eBike Ride emerges, a tourist experience with electric bicycles.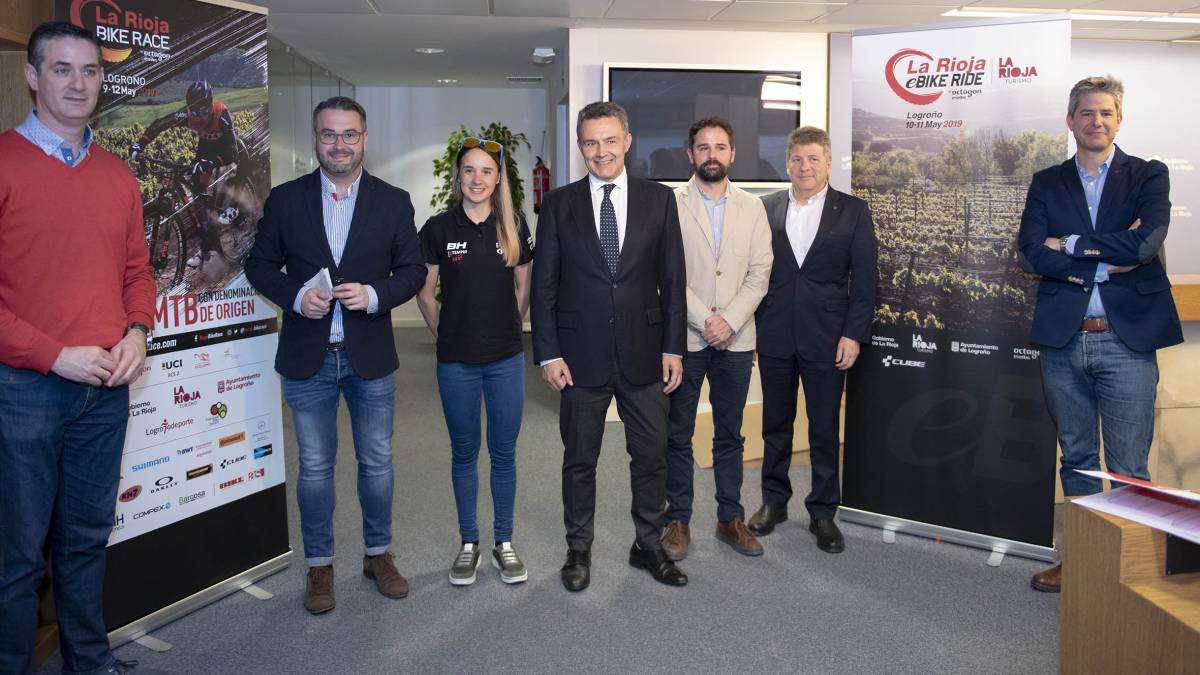 La Rioja has hosted today the official presentation of the sixth edition of La Rioja Bike Race, the MTB test by stages with designation of origin to be held in Logroño from 9 to May 12.
La great innovation of La Rioja Bike Race 2019 will be its four stages in accordance with the new regulations of the International Cycling Union (UCI) . A first and short Flash Stage, a marathon stage, the Queen BUFF® Super Stage, and at the end, the Finisher Stage.
La Rioja Bike Race will be for the sixth consecutive year UCI and will be held just before the start of the World Cup, awarding valuable points for the world ranking and qualification for the Olympic Games of Tokyo 2020.
La Rioja Bike Race has been disputed by 4,800 Mountain Bikers of 38 different nationalities, having traveled more than a thousand kilometers and climbed more than 27,500 meters. La Rioja Bike Rac e is one of the most attractive MTB events on the calendar, having sold out its entries in recent editions. In 2018 it beat its record of registered, of feminine participants and of nationalities, being more than 1,100 Mountain Bikers of 22 different countries.
D. Conrado Escobar, Councilor for Social Policies, Family, Equality and Justice of the Government of La Rioja has highlighted: "This year presents the best version of La Rioja Bike Race, in this case because it has more travel, more landscape if possible, greater sport level, it will be a bit more entertaining, more touristy because we continue incorporating more tourist landscapes in the tours, and more international. It is a nice opportunity to enjoy La Rioja and Logroño. "
For his part, Javier Merino, Councilor for Sports of the City of Logroño, added that" we are talking about one more edition, with much more. More nationalities, more tourism and more overnight stays in Logroño. The test is identified by the sport level and at the same time, by the tourist impact it has in the area, with more than 6,000 overnight stays. In each edition the 'complete' poster has been hung in the accommodations in the area. The Rioja Bike Race is a binomial between sport and gastronomy ".
All the speakers who participated in the presentation of La Rioja Bike Race have highlighted the innovations that the company organizing the test, Octagon Esedos, is incorporating every year.
Aitor Jiménez, events director of Octagon Esedos, wanted to emphasize that "it was in 2014 when we started this journey and we set ourselves a clear objective: to become a national and international benchmark. From Octagon Esedos we can say that we have achieved it. We are facing a sixth edition that will once again present record numbers, with one more day of competition and with 800 registered today. "
Fun assured!
La Rioja Bike Race 2019 will have four stages with start and finish at the Palacio de los Deportes in Logroño, where Paddock will be installed with all services to the participant and an exhibition space for equipment and brands.
Rocío del Alba, ambassador of the test with Carlos Coloma, and bronze in the Cross Country European Championship (XCO) Sub 23, has highlighted that "the course is designed so that participants know the most iconic places of La Rioja, its vineyards and historical monuments that They make it great. La Rioja is a cycling paradise, and the Trevijano pass, the Roman road or the climb to Moncalvillo are mythical sections of the test ".
Así, La Rioja Bike Race will travel 230 kilometers with 5,215 meters of positive height gain, with fun trails and fascinating landscapes, in which Rioja vineyards will accompany the Mountain Bikers, in a balanced and very attractive stages.
All the stages will be circular and will go through emblematic places where fun, authenticity, natural technical and physical difficulties predominate , the spectacular landscapes and the "flow" .
La Rioja Bike Race 2019 will open the competition with the FLASH STAGE, short, fast and intense of 17.6 kilometers and 284 meters of altitude positive, and with exit by waves of categories.
The second stage will have 79.3 kilometers and 1,681 meters of ascension and transc Urrirá for emblematic places that will dominate the fun and the Rioja vineyards.
La BUFF® SUPER STAGE will be the day reigns with almost 84 kilometers and 2,263 meters of cumulative altitude and will stand out for its number of trails and mythical sections of much 'flow' .
The last 48 kilometers and 987 meters of ascent of the FINISHER STAGE will incorporate an unprecedented descent to completewith a big smile.
Photos from as.com