Movistar revolutionizes cycling at home with 'Virtual Cycling'
The Spanish cycling team, in collaboration with the Bkool platform, launches a simulator that allows you to recreate large stages of the calendar from home.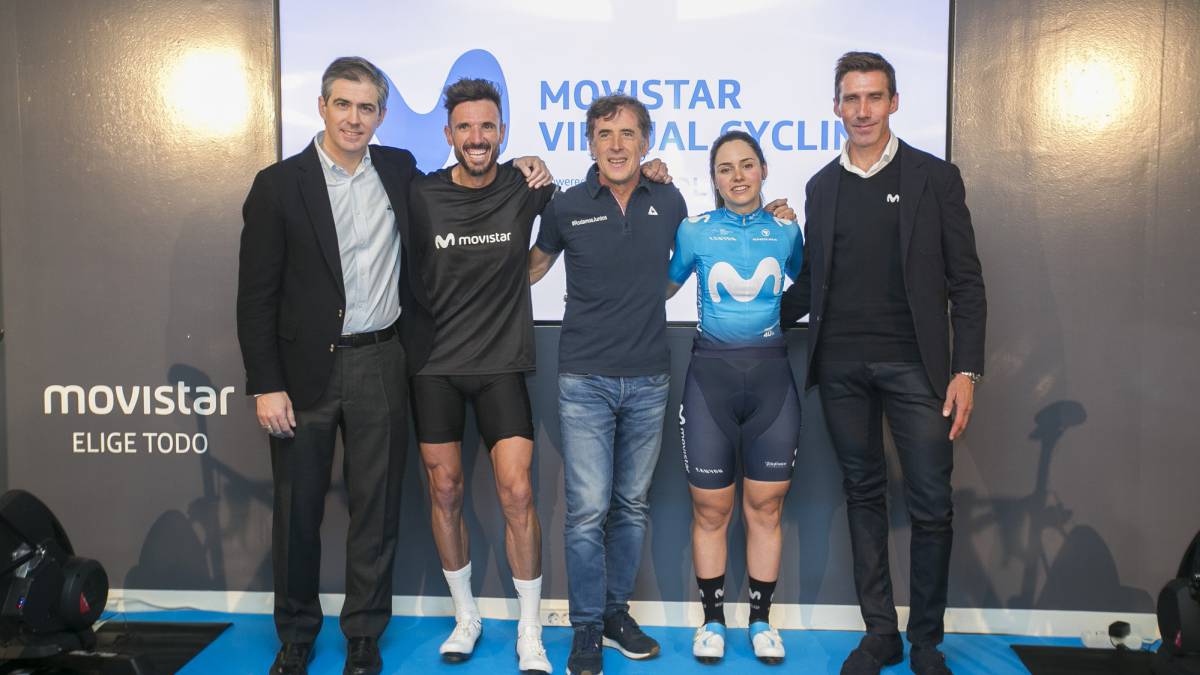 Movistar Virtual Cycling will be a reality from next April 1. From that day, cycling fans from around the world can be part of a great global competition and without barriers of entry (there will be no level or age restrictions) in which can be measured by great champions of the history of cycling, among many other users.
Así New project of the Movistar Team, sponsored by Bkool, on Monday in the Telefonica Flagship Store in Madrid. The event featured illustrious personalities from cycling such as Pedro Delgado and Pablo Lastras, as well as other sports figures such as the former Chema Martínez. Representing the ciclismo feminine participated Lourdes Oyarbide, national and time trial international champion with the Spanish national team of cycling.
This initiative arises from the growing demand of users who requested a competitive discipline within indoor cycling, which is why Movistar has partnered with Bkool. This cycling platform has developed software that allows the user to train and also compete comfortably from home. The system is simple: you only need a bike and a roller connected to an electronic device that allows you to start the simulator to realistically feel the conditions of a journey in terms of distance, elevation, orography and even real-time metereorology Thanks to this, cycling fans will be able to measure their strengths from home in real stages of the Tour de France, Tour of Spain and Giro d'Italia or in classics such as Paris-Roubaix.
After a demonstration of the simulator with a nice competition between Chema Martínez and Oyarbide, in which recreated the last two kilometers of the Road Cycling World Championship to be held at the end of the year in Yorkshire, both protagonists valued the benefits of this revolutionary system. "I would have needed to warm up a bit more, but it's very realistic and it seems to be a very practical platform, it's a good thing that the screen shows a bit of what's coming, even though Chema made it very difficult for me, I'm sure he trained", joked Oyarbide on the performance of the exatleta.
"This gives everyone the opportunity to compete and measure themselves with the best, there will be everything: people who only want to participate and others who seek to crush." Fortunately, this is for everyone Cycling is an exciting sport and a lot of fun. We could have made the race a little longer so it would have been smoother, I rode at 50 km / h and that speed had only seen it on television ", quipped Chema Martínez at the end of the simulation after Oyarbide, 4 seconds.
For his part, Pablo Lastras, sports director of the Movistar Women's Team, , positively assessed the arrival of an open simulator for all types of people, regardless of their level and age: "It is taking advantage of technology for sport. good material and is the best way to simulate a race. Keep in mind that one hour of roller equals two hours of road, so you have to measure your efforts well, some cyclists will challenge you. there is no fork of level or age ".
The curious anecdote of the morning came from the hand of Perico Delgado, who arrived just in time to close the event, so he took the opportunity to joke with the Luxembourg time trial of the 1989 Tour where he was late to the exit. "Sorry for the delay, I come from Luxembourg [laughs] For the fan it is a very big incentive, you can not train with Valverde every day or have references and data from the great runners. Comparing yourself with the great cyclists will be an incentive for you see how bad they are, "joked Perico about future fans to win the platform.
Finally, it should be noted that the winners of this virtual competition around the world (which will have tests from home and other face-to-face) will receive a succulent prize. They will have the opportunity to attend the final final held at Festibike on September 15 at Las Rozas. The time to pedal has arrived, however, near the sofa.
Photos from as.com