Marcelino: "If I arrive on time, I will give Bordalás his hand"
The coach does not believe either that the controversial game of Copa del Rey will have its influence on tomorrow's game, in LaLiga.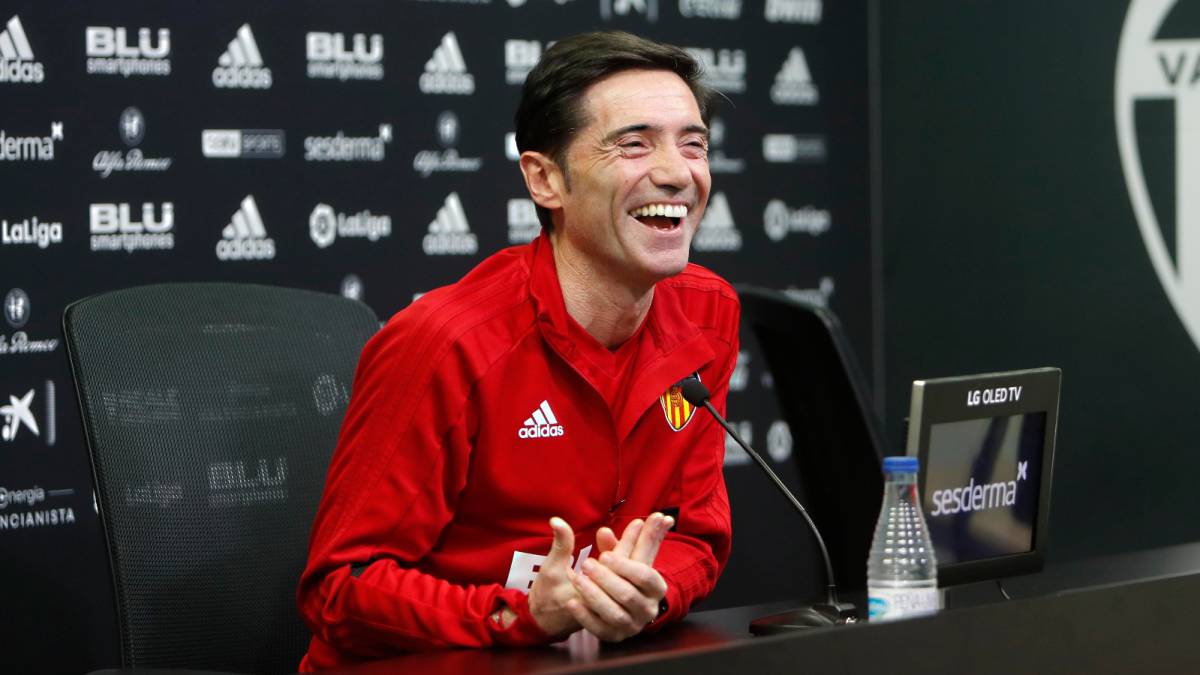 Polémica in the match of Cup against the Getafe:
"I do not think that it influences, it is a League match, different. The fans will support their players. It's the last game, after two and a half months playing three games a week. We have to focus, get all together, so that the player finds the best atmosphere and we get the three points ".
Eliminatoria of Europa League against Villarreal:
" The rival I do not like anything because we are two Spanish teams. We preferred to play against an outside rival. I wish we had met in the final or at least in the semifinal. I liked little to say nothing. We will face that tie with the aim of reaching the semifinals. Before that, we have three very important league games left. For that reason, now to focus on LaLiga ".
Bordalás said he would shake his hand. Will you give it to him?
: "If I arrive in an hour I will give him my hand" .
Key party:
"It is a very important game, we will face it as if it were the last, like everyone else. There is no doubt that winning is subtracting four points from the fourth. Draw would be to subtract one. And losing would be very bad news for us. "
How comes the break ?:
" It suits us because the load of matches is brutal. All played to the limit. We have lived moments of tension and exigency. Reaching the Cup final was an effort, in Laliga we are going up little by little and then four Europa League matches ... All this supposes an important physical and mental fatigue. It is true that we are going to have a lot of internationals. In Spain three, for the first time after 9 years. Everything is good news. If we are able to close this journey with a victory against Getafe would be to put the finishing touch ".
What there are so many internationals will prevent them from resting?
:" The greatest pride for a player is to be international for his country. This psychic reinforcement is a boost to their self-esteem. I will never be the one who complains about having internationals. It is a personal satisfaction. I wish we had many more. "
Fallas
:" It would give me time to enjoy the Fallas. It is a beautiful party that Valencians can enjoy. Hopefully tomorrow, after a victory, we can enjoy those two or three days that are missing. Last year we had a good time. Hopefully we can enjoy them. "
Will you eat fritters ?:
(Marcelino is very strict with the diet)" Do not insist with that question ... (laughs) I like many Valencian products, and last year I tried them. I will eat some. "
? Gale? Gale ?:
" We will wait for the training this afternoon, we will see if he is available to help us out in an emergency situation. "To play at first is a bit hasty" . Neto se It falls of the call for acute lumbalgia and Garay does not arrive
The Brazilian goalkeeper of Valencia Neto Murara has caused low for the game of this Sunday against Getafe in a duel in which there will not be the Argentine central Ezequiel Garay, which is not yet fully recovered of a muscular injury, besides, Marcelino García Toral will not be able to count on the 22 22222 Argentine center Facundo Roncaglia by sanction, so the Asturian coach has only two centers for the duel on Sunday. Before Neto's last minute loss, the Valencian coach ha recurred to goalkeeper Cristian Rivero, while Dani even returns to the list after his absence by penalty last Thursday against Krasnodfar in the Europa League. By technical decision se remain Kang In Lee and Rubén Sobrino. The list is made up of the goalkeepers Jaume Doménech, Cristian Rivero; the defenders Diakhaby, Gabriel Paulista, Piccini, Gayà, Lato and Wass; midfielders Wass, Parejo, Coquelin, Kondogbia, Cheryshev, Soler and Ferran Torres; and the forwards Santi Mina, Rodrigo and Gameiro.
Photos from as.com