Kobe Bryant: "I did not recognize Pau Gasol de San Antonio"
Ace spoke with the legend at the Four Seasons in Shenzhen: "Pau can not play with the Lakers anymore but there are things he can still do".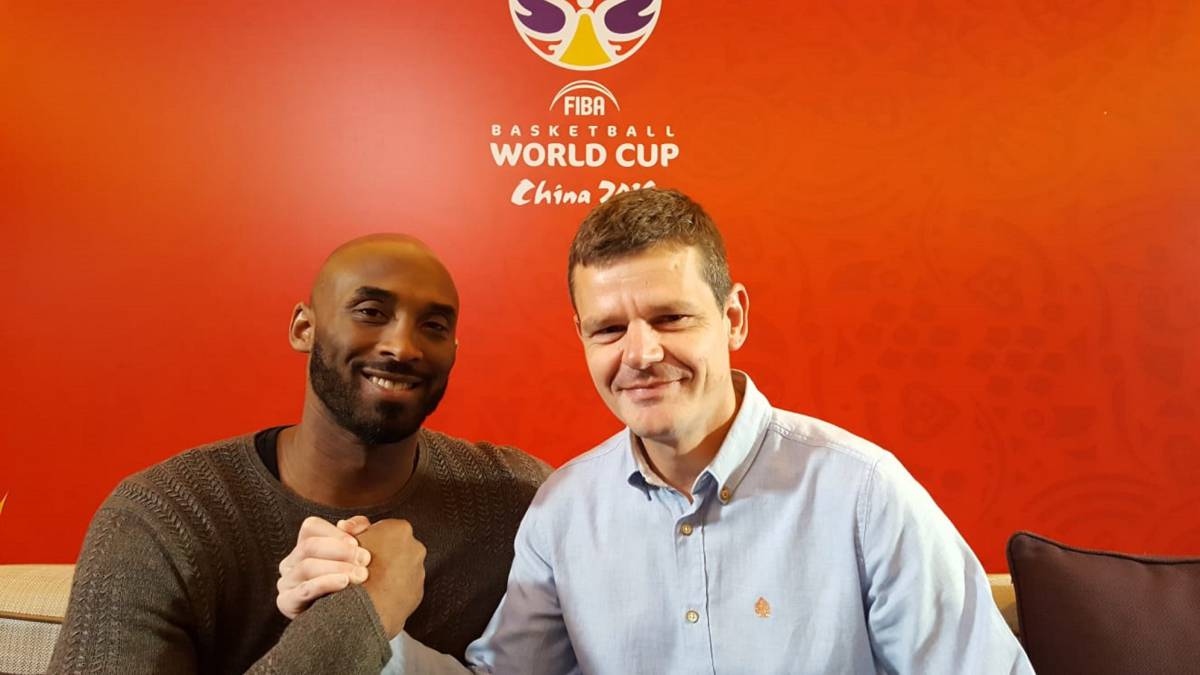 Kobe Bryant, 39, is the ambassador of the Basketball World Cup. The Legend of the Lakers, five NBA rings and two Olympic golds, had a private talk with only two European media, As and Marca, on the seventh floor of the Four Hotel Shenzhen Seasons, where a good number of fans awaited him with his famous shirt of the Lakers. Extremely educated, Bryant even agreed to do it in Spanish, a language he handled correctly mixed with a touch of Italian.
Why did he accept the challenge of being an ambassador for the World Cup in basketball, what does it mean for you?
When I started I played basketball, I did it in Italy and under the umbrella of FIBA. I have known FIBA before even the NBA. I met the NBA when I was 14 years old. So when they called me to be the ambassador, I said sure. And thank you.
Forced to ask you always for Pau Gasol ... What can Pau Gasol give Milwaukee?
-Depends on whether he wants to play or not ... (laughs). I told Pau. I told him: 'Pau, Milwaukee is fine, but do you want to play or do you want to play? (in the second you want to play use a click) '. What kind of Pau are we going to see, the Pau that played with me in Los Angeles or the Pau that was in San Antonio that I do not know who it was? He has told me that he is ready to play. If he's ready to play, Milwaukee becomes very dangerous.
You talk about Pau needing to be motivated to perform. The question maybe is if Pau has already lowered the level to his 38 years.
No to the level he played with me in Los Angeles in 2008. It is not possible because he is 38 years old but there are many things he can do. Pass, throw, bring experience to the game. Because for example Antetokounmpo does not know how to play because he is very young. You do not understand the game, how you have to think about a playoff game. He can offer different visions and Pau can help him.
You played and won two Olympic finals against Pau's Spain and in Spain that unforgettable image of all the American players consoled him. Do you think that Spain is no longer at that level?
España always has new generations of young players and it seems to me that Spain will always be one, two or three in the ranking. Forever. It is true that they with that Navarro team, Garbajosa, Gasol, Rudy, was a very, very strong team. I remember that in one of the finals I told Pau 'I have not shot at the whole game. There are two minutes left to play ... You already know who's going to shoot (laughs). Why did not you send more than one defender against me? ' I said 'this I do not understand. But look, here's my gold medal'.
As well as Pau to Milwaukee, Marc has gone to Toronto. Who do you think can make Golden State more expensive in an NBA Final?
I think Toronto because it has players with more wingspan. When you are playing against Golden State you need players with long arms, long legs. Curry is a small guy and if he finds defenders as fast as him, he may have more difficulties there.
How do you rate the situation of the Lakers? You won with Shaquille, then as a franchise player but you also had valleys in years when you could not win. Do you think that Lebron could be wrong choosing the Lakers?
It is the first year.
But for the Lakers not being in the playoff is always a crisis.
Yes, but it is the first year. In Los Angeles it will always be like that because in Los Angeles people want to win the ring this year, and the next. Now, now, now. But that is not reality. It's okay. Surely the second year will be better and the third, better than the second. Winning is not a matter of 'I get here to win'. It's a process.
Do you think the Anthony Davis affair could mislead the franchise and the players?
I say no. Kuzma, Lonzo, Ingram ... Are all three better than Anthony Davis? No no!. Ciao! Bye! Anthony Davis is one of the best players in the world. Not from now, from history. What are we talking about? If you can sign Anthony Davis, you do it. If not, agree. We have three players who are very young and who work hard. They are intelligent and must be developed. But if you can sign Anthony Davis ... yes!
Do you still go to Staples, do you feel like watching basketball or is it more difficult without him? Would he wear the Lakers shirt to put him in the playoffs?
(laughs). No. I wake up and do a little career, a little ... I take my princesses (she has three daughters: Natalia, Gianna and Bianka, and she waits for a fourth child) to school and I go to the office. There I write, edit ... I do not have much time.
Is it happy? 444444
I love my new job as I loved playing basketball. At night I am always with my girls and their team. Every day I train with them two or three hours.
You had a coach as influential as Phil Jackson, have you ever considered being a coach, the Lakers for example?
All those things that Mr. Phil Jackson taught me are the same things that I teach my daughters. The same things. I sent a film to Phil of my daughters doing the triangle. Play the triangle! He looked at it and replied: they are playing the triangle already! I said: "Yes, because the coach is better". (laughs) .
They say it's very difficult.
It's not complicated, there has to be patience. It does not work in the NBA because the coaches do not have the patience to train it.
What triangle was better, the Jordan, Pippen, Grant or the Kobe, Pau and Odom?
Ahhhm.
Six rings against five is Jordan against Kobe.
The best one is the one that earns the most rings. Always more rings.
Lebron has overtaken Jordan as top scorer and now he is going for you. Do you want it to happen?
The only important thing is to win. Do not exceed individual records. Numbers, points ..., it does not matter. Did you win or not? Do not make buts When Michael, Magic or I played, you could not tell if you had or did not have players. Do you win or not? You can not be the best if you do not win. Then LeBron must win rings.
What changed in the United States team to win again? You joined the group in that important summer of 2007 where Las Vegas began to create the famous redeem team ...
I spoke with Krzyzewski and said: I want to be the player to mark the rival star. I. Spanoulis, Diamantidis, Leandro Barbosa ... Me. And my companions told me. "What are you doing studying Spanoulis?" And I said to them: "Spanoulis, Spanulis killed you in Japan." When they saw how I studied these players, I saw that I took it seriously, and that's when jokes and laughter ended. We take it very seriously.
What do you think about Doncic?
Are you surprised? Why? Not me.When I was playing in Madrid, your skills, how I thought the game, was already there.I think the general managers today They are smarter than before because Manu Ginobili in Bologna was doing the same thing and it took him longer to get to the NBA, he also played one, two, three ... Now they are smarter than before.
Is there any possibility that States United is not a champion, is one hundred percent favorite?
No.There is always a chance that I will not win, always, competition is as it is.I think it is a serious possibility that the United States does not win this World Cup.
Photos from as.com