Earthquake Zion Williamson: 60 points and 26/32 in two matches
Duke will play the final of the ACC after a triumph suffered against North Carolina (73-74) before more than 20,000 spectators at the Spectrum in Charlotte.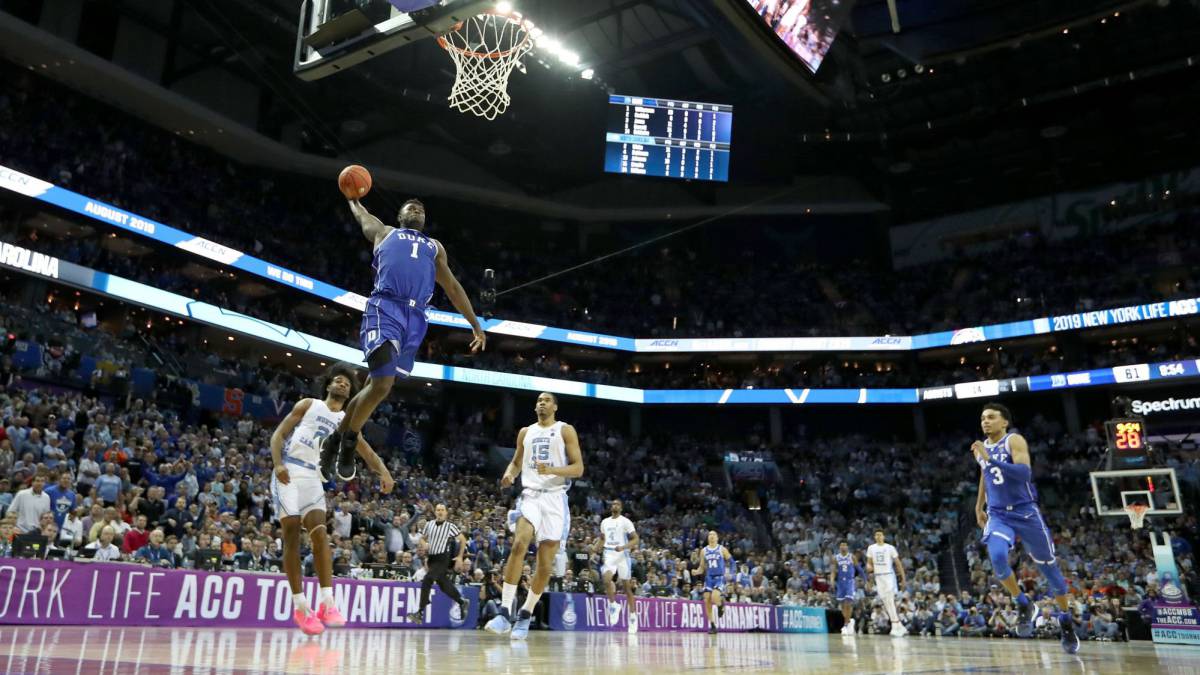 With a record for a college game at the Spectrum Center in Charlotte (20,116 spectators) and, surely, with no one in all of North Carolina aware of what the Hornets did in Washington (they won), the ACC (Atlantic Coast Conference) resolved their semifinals with a good surprise, the victory of Florida State against Virginia (59-69), and a tremendous game that took shine to the Tobacco Road Rivalry: North Carolina 73-Duke 74.
Win the Blue Devils, who will play for the title against Florida State . In doing so, they avoided the first 0-3 against the Tar Heels since 1976. They had lost the two regular-phase matches with one common denominator: the absence of Zion Williamson, who was injured just after the first match and missed that too. second. This time there was Zion, the mother of all tiebreaks: before this game, the two universities were 50-50 in their last 100 matches. Now, 51-50 with only a +10 total for Duke. In addition, both added 101 victories in the ACC tournament. Now there are 102 for those of Mike Krzyzewski, with the option of putting the 103 the icing on the conference title. Another fact: in his history of duels, there are only six matches resolved by a point. The six have won Duke.
The duel, tremendous, alternated moments of brilliant basketball with others of almost unbreathable tension. The Tar Heels threw to their rival all their arsenal, led by Cameron Johnson (23 + 5) and only his bad aim prevented them from really escaping in a first time in which fouls took out the game Cam Reddish and North Carolina sent for 13 (33-20) before a partial of 11-24 put the boards to rest (44-44) . On the slide of the second part (46-52 for Duke, 71-67 for NC ...) Zion decided: first a 2 + 1 and finally a bruising clap of his own fault, a complicated reverse, to put the 73-74 final in the absence of 31 seconds. After, and after mistakes that could cost very expensive from the staff line of RJ Barrett, North Carolina pardoned two chances to win, tightened by the defense of Duke, who took the victory in a match in which between both teams accumulated a 9/47 in triples.
North Carolina bounced better and added fewer losses ... but did not have Zion. With Reddish off (6 points) and RJ Barrett missing many shots (15 points, 15 pitches), Williamson was the engine obvious of his team, the factor that compensated for everything that made his rival better collective: 31 points, 11 rebounds, 13/19 in shots. One day after doing 29 with a 13/13 against Syracuse. That is, in the two games of the ACC tournament and after almost a month without playing for a knee injury, has added 60 points with a 26/32 in field shots, 3/4 in triples, 25 rebounds and 6 robberies. A unique player at the gates of the conference title, a March Madness that awaits him with all five senses placed on him ... and an NBA draft in which he will be a number 1 acclaimed with player's stripes generational It seems a lot of burden despite his huge shoulders and due to his still 18 years. It seems ... but only until you see him play.
Photos from as.com