Carlos Sainz: "I have the talent to fight for a World Cup"
Debut this Sunday with McLaren. Talk to Ace in Australia about the restructuring, his disengagement from Red Bull or patience in this sport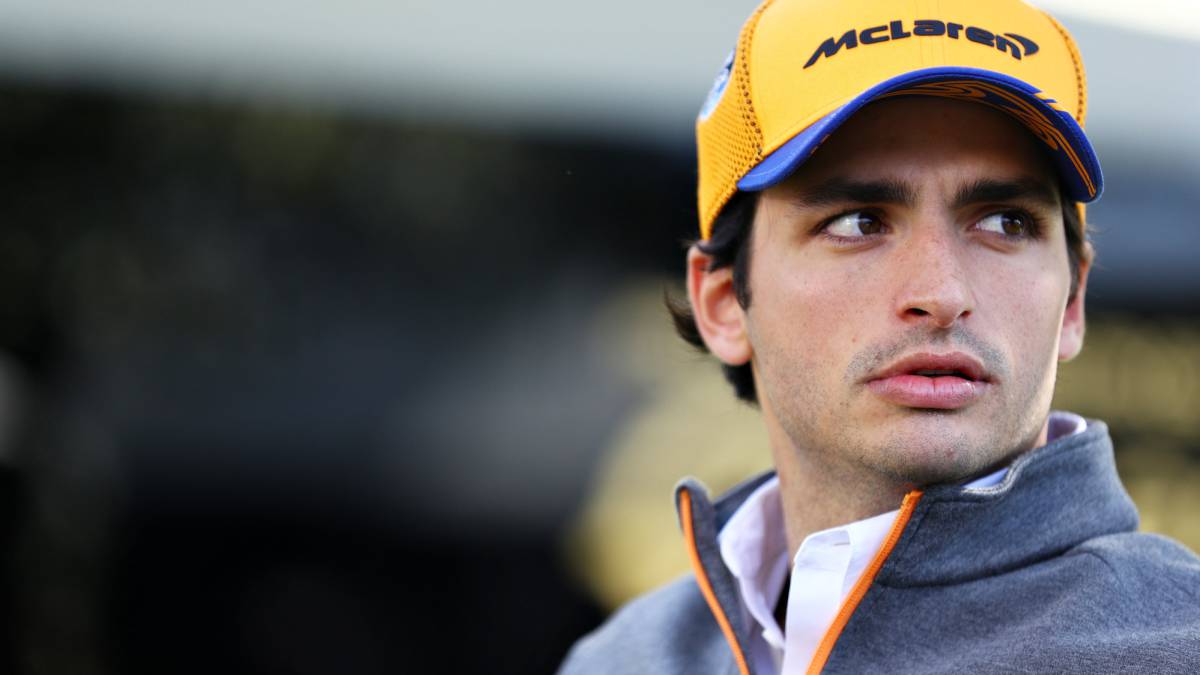 Very serene, apparently rested, although a few hours before he was completing the first practice of the season. Carlos Sainz returns from the pilots meeting and sits with As in the McLaren 'motorhome'. This Sunday, with 24 years, he will play his first race with the second best team in the history of F1, in the restructuring phase. During the winter he insisted that he wanted to wait for the Free 2 to start assessing where his car is with respect to the rest.
-So where is McLaren?
-In the middle of that package that is half of grill. Two tenths can make you enter the points or leave you behind, the 16th. It is important to find those two tenths, for now it seems difficult because some cars will adapt better to some circuits. That's also what those tenths depend on, but I hope we have a better Saturday and fall on our side.
-He looked happy when he arrived in Melbourne. Is it still the same after getting into the car?
-Yes, just as optimistic. It is not so important how we start in Australia but how the car develops throughout the year. I'll be happy according to how we move forward.
-From staying in Q2, how would I see it? Bad for not reaching Q3, or for passing the Q1?
-I do not know. You have to see how much we are in Q3, or if we have gone too far to Q2. Everything depends on where each one is and how the day has gone in general to see what tastes sweet or bitter. It's hard to answer for now.
-Due to your experience in other teams, what is the McLaren methodology like?
-We are working in the right direction and I think the team has made a restructuring that will have its benefits more in the medium and long term. Keep in mind that people who have arrived in recent months have not had any influence on the car in Australia. We have to wait until next year, when James (Key) will have an important part of the work. And as for this year, we must wait for Bahrain and especially for Barcelona.
-In your case, how does it change you to have two years of contract?
-It gives me more peace of mind. As you see me, I am calmer and happier than ever. That makes me more patient, at Renault I saw the first five races as fundamental. If something happened to you in the Free 2 you were more angry, whereas now I have a day full of problems in the Free 1 and 2 and I am so calm, because I know that you have to be patient.
-And how did the uncertainty of last summer, when Ricciardo, and before Ocon, they were going to remove the seat of Renault?
-Happy you are not about to have so much uncertainty. If it affects your performance on the track you will never know, because I can not do another year in different circumstances but with the same car to compare it. But no, you're not quiet.
-Did you see yourself out of F1?
-No, I've never seen myself out of F1 because I've never deserved to be out of F1.
-Do you think he deserved to have gone to Red Bull?
-A Red Bull could have gone either, either Gasly or me. But I know that when I leave Toro Rosso to go to Renault I lose many ballots to go to Red Bull. And I do aware of it, and I still believe that it was a good decision for my future.
-Why?
-Because I like where I am now.
-It is considered worse pilot than the six that occupy now Top cars?
-No. If they give me a car to fight for the first six places, I do not know if I would be ahead or behind, but I would fight for the World Cup. If I would end up winning the World Cup it is impossible to know, but I think I have the talent and the ability to fight for a World Cup.
-What is your feeling about Red Bull?
-The balance is positive because without Red Bull I would have arrived at F1, I would not have gone to Renault and I would not have finished at McLaren. Yes there have been times when I would have liked to have more independence to make my own decisions, with my own address, but deep down I should be very grateful to Red Bull because without them I would not be where I am now.
-Now is the McLaren reference ...
-In Toro Rosso I was also, especially when you are the driver who has scored the most points for the team. There, especially the second and third years, I think I led the project and added the points. Here at McLaren is a different situation, a long-term project, with another mentality. You have to think more about the team.
-Do your times in F1 fit well with this team?
-AhoraIf you are not in Red Bull, Ferrari or Mercedes, I think the best place to stay is still McLaren. I prefer to be here with a two-year contract and I would not change my steering wheel for anything.
-What did your roadmap tell you for the fifth season?
-I do not know, but I'm happy to have spent three years Toro Rosso with that statistic. If you tell Carlos Sainz five years ago that he would go through Toro Rosso, Renault and McLaren, and that he would have a two-year contract at this point, regardless of the situation of these teams, they are teams that are looking for good and good pilots, so I'm happy.
-How much hurry does it have to be fighting for the top-5?
-Hurry no, if you have to get there, it will come. If it depended on me, a lot. But in F1 you depend only on the car. Like Hulkenberg, or Ricciardo, who won last year and is now a second slower simply because he has changed cars. Nothing has changed in him.
-Can you have patience in F1?
-In my situation, or that of the other 13 pilots, you have patience or you can despair very fast. We are not pilots to be a second and a half from the head, we can be in the same tenth. We have won all our lives in other categories, but you get to F1 and for the car that has touched you, you must stay a second and a half. You have to accept it.
-Is F1 a fair sport?
-I think it's the best sport in the world, I love it. The speed of cars is incredible, but now it is too focused on the importance of mechanics instead of the driver. By 2021 the main objective must be to level it, that the pilot has more authority. Yes, also that they roll more stuck, but above all that we are less differentiated. How is the half of the grid, that of Raikkonen, 7th, to me, 14th, had half a second in the free.
-Debuta on Sunday with the second best team in history, what is it for you?
-Es a privilege, a pride. A dream come true, beyond the phase in which McLaren is now. And I think we have to put it in value, even if we are in a period of restructuring. That on Sunday Carlos Sainz is going to debut in a race with McLaren is a pride.
-¿And it gives you time to assimilate it?
-No, do not assimilate it. As I remind you, or readers of the Ace, I have to remind myself. It's something I have to keep thinking about when I go back to the hotel and I get in my room.
-Good luck, good start.
-Thank you very much.
Photos from as.com