Calleri keeps the European dream of Alavés alive
A double by Jonathan Calleri and another by John Guidetti served to give him three points against a Huesca that complicates his life.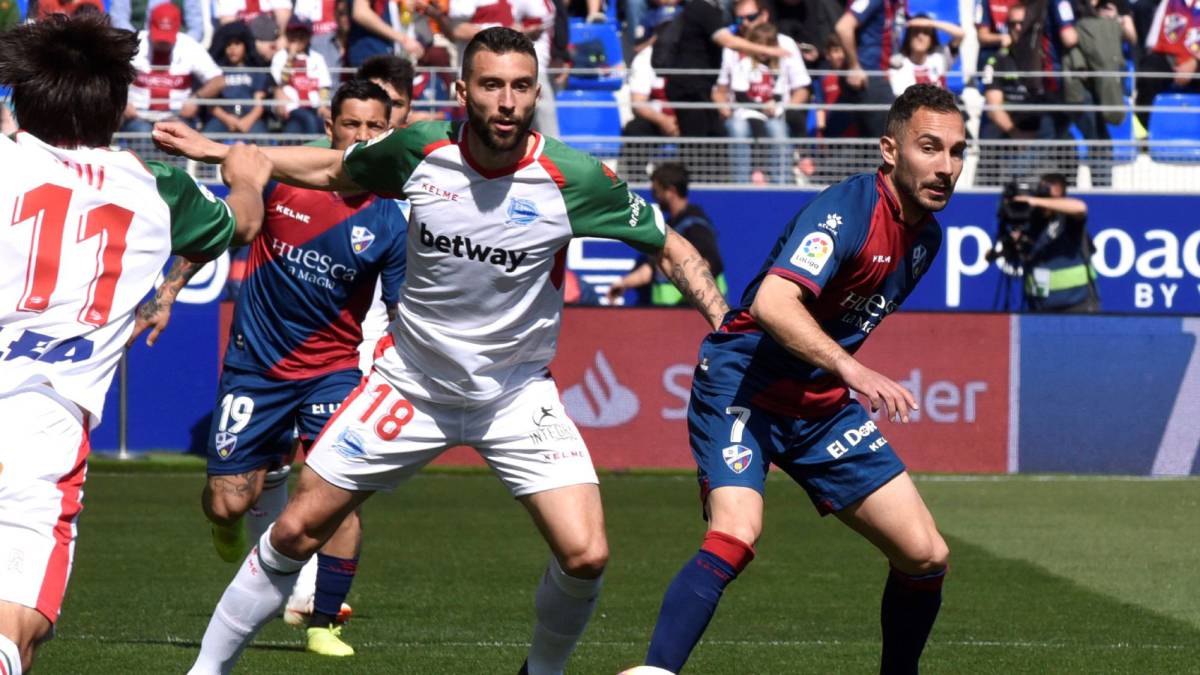 El Alavés de Abelardo took three valuable points from El Alcoraz against a Huesca very reduced by casualties. The match was very close, with two penalties per hand in the first half, but in the 80th minute it was Guidetti's goal, which sunk the bottom who had had chances to put himself ahead. Calleri sentenced the meeting for a team that is still dreaming of Europe.
The first minutes were frantic in El Alcoraz, with two hands that the VAR resolved with two maximum penalties, one in each area. First it was a hand of Mantovani, that after being reviewed by Undiano Mallenco on the screen, it was a penalti that transformed Calleri. A very similar hand, three minutes after supposed another penalty, in this case committed by Ximo Navarro, and that transformed Chimy Ávila.
In the second part, Francisco's came out better and had two clear chances. The first came in a counter that did not finish Gallar, receiving only in the area and sending high. The second came with a continuation of the head of Enric Gallego that sent the crossbar Cucho, with a vaseline attempt. When the occasion was over, the altoaragoneses went back and the Alavés took the handle of the match, especially from the left side with Jony as the protagonist. The Spaniard was a nightmare first for Miramón, and when he got injured for Yangel and made a beautiful play overflowing the left putting on a tray a ball that threw high Borja Bastón.
La balance went decanting on the Basque side and a strategy move the goal of Abelardo's team arrived. After a throw-in and an extension of Maripán, Guidetti who had not scored this season, broke his drought by pushing the ball on the far post. The locals tried to get up, but in a against Calleri sentenced the game after a good pass from Wakaso, who had just entered the field. Three points that bring the Vitoria players to the Champions zone and that leaves the people of Huesca as attentive and attentive to the results of their rivals for permanence.
Abelardo: "With this victory we are already saved"
The coach of Deportivo Alavés , Abelardo Fernandez, declared after the victory of his team (1-3) against the Sociedad Deportiva Huesca that with the victory they were definitely saved, something that until now he had not dared to insure.
"It is difficult to reach those of down to 44. Now we have to fight to try to stay as high as possible. We will see how the team responds and we will fight by all means to continue up, "he added.
The coach of the Vitoria team explained that his team plays without pressure and that, on the other hand, has "a great illusion" .
"We have to play every game with the illusion of seeing where we are going. is a very difficult schedule but we will try to fight game by game to keep adding points ", said.
The coach of the babazorro team analyzed that the game was" tied and locked ", and that had opted for its colors thanks to its greater success in the auction.
"It was a very difficult game. The team has put on its work because Huesca has had its options, as it happens in any Primera game, and in the end maybe we have had more luck in front of the goal and that's why we won ", he highlighted.
Abelardo ha put in value the victory of his team in El Alcoraz, explaining that the altoaragonés set had leading in the last match an "incredible" comeback .
"It came to be at eleven points and now four after winning at Sevilla and Valladolid 4-0 and for them it was a very important game ", highlighted.
The coach of the team from Vitoria praised his players saying that he is a team that does not give up, and he was pleased with the commitment they showed as he explained that they had had many casualties in January and there were players who had to play in positions that were not theirs.
Jaime Ramos: "The Alavés has been more effective"
El second trainer2 222222 of the Sociedad Deportiva Huesca, Jaime Ramos, who appeared at a press conference when "Francisco" Rodríguez was sentenced, indicated that el Alavés had won the victory of El Alcoraz because had been "more effective" .
"There has been an imbalance in that sense, they have been more effective than us, we have had two occasions and we have not been able to transform them and that has been one of the keys because they have marked their oportunidades and we, even having them clearer, we have not been able to do it ",a analyzed Ramos explained that, after the defeat, are "disappointed" because it was a match in which they had placed "many hopes and hopes". " We had an ascending line, the match has been leveled and balanced and it has been decided by small details, which makes it doubly painful," he lamented. For Ramos the positive reading of the defeat is that they have a template " with an attitude to take off their hats" because they have suffered many adversities in the form of injuries and that attitude should be what leads them to fight for permanence. The second coach of Huesca said that they had faced a team in European positions that had played "one on one" and, therefore, no could be "no but" the team. In this regard said that the Huesca is "alive" and in other occasions it has already recovered "all the adversities" that had arisen. "The team is convinced, we are still alive and we will fight to the end", he said.
Photos from as.com