Baptist starts sending in Thailand
The Talaverano has maintained an intense duel in the distance with Jonathan Rea during the session he has won in the last breath.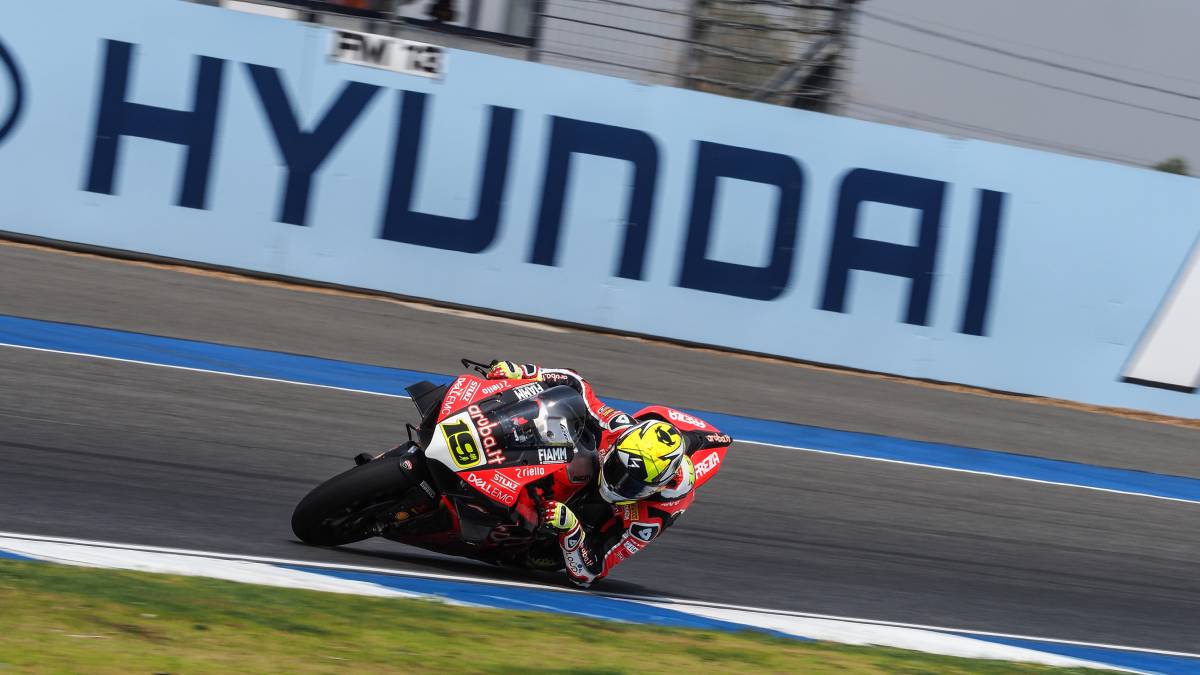 The first pulse between the rookie contender and the
champion fell from the hand of Álvaro Bautista in the first freestyle of the GP of Thailand, the second date of the Superbike World Cup calendar. The first training session left a heads-up between the Ducati and Kawasaki, alternating at the top of the timesheets.
Rea started leaving the time in 1: 33.633 on his 16th lap, shortly after the end of the session.
And Bautista's response did not wait: 1: 33.597 flying over the abrasive Buriram asphalt (50 degrees on track) and leaving the speed record of the session at 309.5 km / h. But the Northern Irishman did not wrinkle despite the peak speed difference of his ZX-10RR (301.7 km / h) and went down to 1: 33.288 , which were nothing at all with the last lap of the Talaverano and the Panigale V4 R and his 1: 33.089 (-0.199).
Third was the Dutch Yamaha Van
der
Mark with 1: 33.911 on the back of his YZF R1.
These were the only three drivers who were able to lower 1: 34,000. In the second session, in which the script was repeated of the first free, Bautista extended the advantage over Rea and lowered the time to 1: 32.971, staying close to the track record (1: 32.814) and leaving the Kawasaki rider at 0.298 seconds. Third was this time Sandro Cortese (Yamaha) with 1: 33.465.
Jordi Torres could only be thirteenth (1: 34.520)
In Supersport 600 he sent in the FP1 Caricasulo (Yamaha YZF R6) with 1: 37.923, with Hector Barberá (Yamaha YZF R6), the best of the Spaniards quarter to 0.800 seconds.
Nacho Calero was seventeenth to 3,310 and María Herrera, nineteenth to 3,476. In the second practices Jules Cluzel (GMT94 YAMAHA) took a step forward in the second free session, overtaking the Italian Federico Caricasulo in the last minutes.
Top 6 Supersport after FP1 and FP2 (combined table)
1 .) Jules Cluzel (GMT94 YAMAHA) 1'37.641
2.) Randy Krummenacher (BARDAHL Evan Bros. WorldSSP Team) 1'37.831
3.) Federico Caricasulo (BARDAHL Evan Bros. WorldSSP Team) 1'37.866
4.) Hector Barbera (Team Toth by Willirace) 1'38.239
5.) Thomas Gradinger (Kallio Racing) 1'38.343
6.) Raffaele De Rosa (MV AGUSTA Cast Corse) 1'38.460
Photos from as.com