Ana Carrasco: "I do not feel like a reference, but maybe it is"
The first female champion of an FIM World Championship (Supersport 300) attended to AS a few days before starting the new season with the Kawasaki Provec team.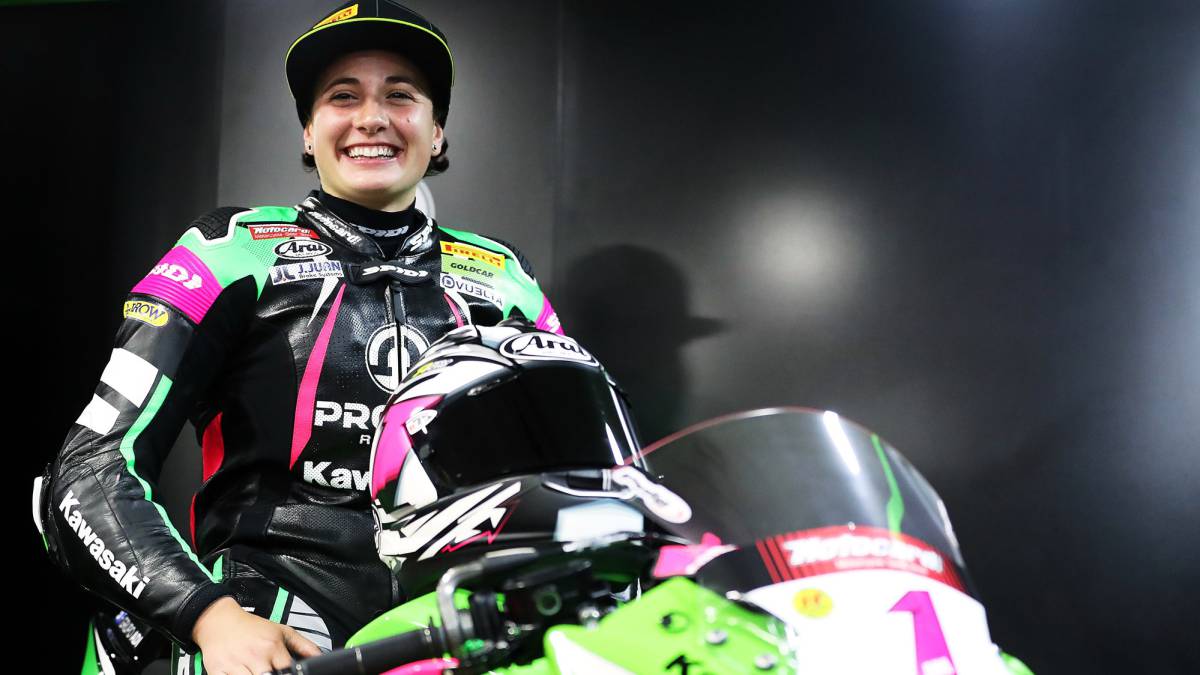 -Has the time been long without competing?
-Yes, I really wanted this day to come. I want to see the result of all these months of work now.
-Has your life changed since you are world champion?
-Yes. At sport level it has made me have many more possibilities, to reach a better team. Personally, all the changes that have meant coming to live in Barcelona, being close to the team. Everything has changed a lot. A better but I had to adapt.
-What's going faster, his life or his motorcycle?
-It's hard to say ... but I think my life is going faster. I am growing a lot on a personal and sporting level. The team helps me a lot to manage especially the press and media issue, which is a bit big.
-The objective is to revalidate the world championship?
-It is clear that this is my goal, that's why we fight We want to defend the title although it is clear that it will be difficult with all the changes that have taken place. We have done a good preseason, I feel strong and we are going fast in all circuits. We'll be in the fight.
-Do you feel the pressure of wearing the number 1?
-Right now I have zero pressure. That we won last year does not mean we have to win this one. I am aware that we all start from scratch.
-In a championship with 9 races and about 60 riders (36 in the race) Do you have margin for error?
-At the level of the race is the same as last year, but wherever you are the change is that now we are many more pilots to qualify us. Any mistake can leave you out of the superpole and go through the race on Saturday is a big problem in the face of fighting for the championship. Aragón and Holland will be races to adapt to everything new and from the third or fourth we will be more placed in the championship, knowing which pilots are up and we will begin to manage the fight for the title. It is very important not to make mistakes especially in the first races. In the end last year we saw that the title was decided by regularity. Win when you can and when you do not score, but do not fall. Recover 25 lost points is very complicated.
-Are you worried about a particular rival?
-I do not care about any rival, but many will be quick and able to win races. There will be 10 drivers with options to win.
-How do you see the bike for this season?
-The Kawasaki is competitive in both chassis and engine. We were limited by the regulations last year. I'm calm, the bike has a lot of potential. At the level of benefits is one of the best but the best.
-What is the long-term goal?
-I'm very good here, happy with the team and especially with Kawasaki. I would love to continue with this brand for many years. They have been the ones who have given me the opportunity to pursue my dream. We will try to do what is better sporting, grow as a pilot and someday get to run in Moto Gp or Superbikes.
-Is that your dream? To be a MotoGP or Superbike champion?
-My dream was to be world champion. That I have already achieved and gives me peace of mind for the future. What I want is to grow, improve, and right now I do not know how to choose between MotoGp or Superbikes. Seeing myself in other categories and being competitive is the important thing. You have to be calm, I'm young and I want to take the right steps, make the right decisions so I do not take a step back. When you change category very fast sometimes at the end you do not get very far ...
Do you have the feeling that it is a reference for girls who want to dedicate themselves to motorcycles?
-I do not feel that way, but maybe it is. When I started I never had a female reference, maybe that's why I've always focused on male pilots and I wanted to become like them. Now, more than a reference in the sense of following my path, it is a bit to demonstrate that it is possible. If I got it, others can also. I am a woman, I like motorcycles and I am a world champion. Can be done. Nobody believed me when I thought it.
-You have achieved it, but with more effort than a man.
-Reaching the world championship is very difficult, being a man or being a woman. At the end of the world there are many riders and in the World Cup there are 90 places. I would have liked to have more opportunities in the past, but I also think that I have had more than others. It has been complicated, being a woman, perhaps it has been harder for me to find a good opportunity, people who believed that I could win and that they could provide me with the means. I think it will be easier now. No two pilots are the same, but no pilot is definedor sex. My results help break down barriers. I hope more women can arrive pilot.
-Have you always won in mixed categories?
-Yes, I've won almost always, a lot of championships and high-level races and I've never gotten out of the top five. The situation I live now is the one I've lived my whole life but worldwide.
-What pilots were their referents?
-My favorite driver has always been Stoner. As a child I always noticed him, in his way of driving. Over the years I tried to focus on the good of each one and learn from everyone because the perfect pilot does not exist.
Photos from as.com