"Fernando Alonso? Maybe I will return to Ferrari in 2020"
Ecclestone analyzes the F1 and leaves open the door of the return of the Spaniard to Maranello ... although he laughs when answering and raises doubts about whether he means it.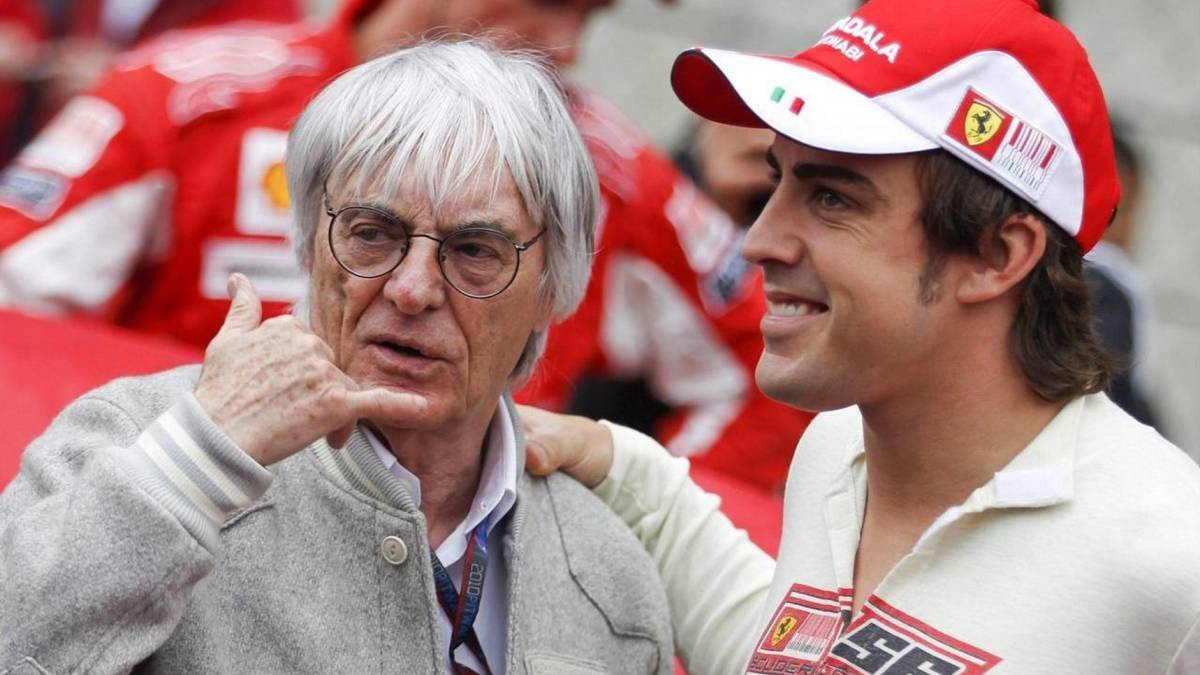 A 88 years old, Bernie Ecclestone keeps getting up at 7 in the morning and keeps working. He does spend more time walking than before and enjoying his house in Gstaad. The London billionaire who remains faithful to the soundtrack of 'The good, the ugly and the bad' as a ringtone on his mobile phone has spoken openly of F1, Ferrari, Vettel, Hamilton, Liberty ... in a broad interview in ' corriere.it '. "Only the people have changed from my F1" and "It would be a mistake to return to F1 even if I had the chance" would be good starters, but the British is a headline machine.
"The F1 is Ferrari and Ferrari is F1, Ferrari winning the F1 World Championship is the best thing that can happen to F1 and in recent years it was known before starting that Hamilton would win ", explains sharply why audiences are down and interest in the sport seems to slow down. Ecclestone recognizes his weakness for the Maranello team and, in particular, for one of his pilots, Sebastian Vettel. "We are friends, we talk and we exchange advice We spend the New Year together in Switzerland, it is very intelligent and you can trust in it blindly, you have many interests in all fields, but it is . As soon as the races end, returns to his house with his wife and children, it's the opposite of Lewis, you know what I mean? ", says. And about your options for 2019? "I think this time Ferrari will win, with Vettel. I feel very happy for the atmosphere in the team and for the car ... although Hamilton is still the favorite", he says.
Following the names of riders, he emerges that of Fernando Alonso. And Ecclestone answers like this: "It has personality and it's a big loss, in 2020 maybe I'll go back to Ferrari ..." (laughs) . From there, a string of characters that Bernie defines. Hamilton? "It's unique, it's the best and the worst for F1, the best because it knows how to promote this sport like no other and the worst because it takes away the attention of F1 so that it focuses on itself. It does not do anything bad, but the other pilots have to wake up and show their personality. " ¿McLaren and Williams? "They are no longer in the hands of supercompetitive men like Ron Dennis and Frank Williams, they have to find another Ron and another Frank to come back in style" . Red Bull and Honda? "I had suggested this alliance to Red Bull three years ago: Honda is competitive by nature, it is enough to see the motorcycles" .
Ecclestone also explains how he sees the new alliance between FIA and Liberty ... and warns the International Federation: "Jean Todt did a good job of convincing Liberty that they need the FIA to change things, but F1 could even exist without the Federation: teams and promoters could write the rules themselves and run under another name. Personally I am not a fan of democracy, F1 needs a dictator who says: 'These are the rules'. If you go to the ballet, you know what shoes you should wear. " Finally, he spoke of the return of Alfa Romeo with a good anecdote: "In the previous period with Brabham we worked well: did not speak English and we did not understand Italian, so we never discussed. I am happy to see Alfa again: I advised Marchionne to get him back on track thanks to the Ferrari engines ".
Photos from as.com