The worst Knicks in history: already 17 consecutive defeats
And 30 in 32 games for those in the Big Apple. The Bucks could with the Bulls and the Pistons continue to rise and beat the Wizards.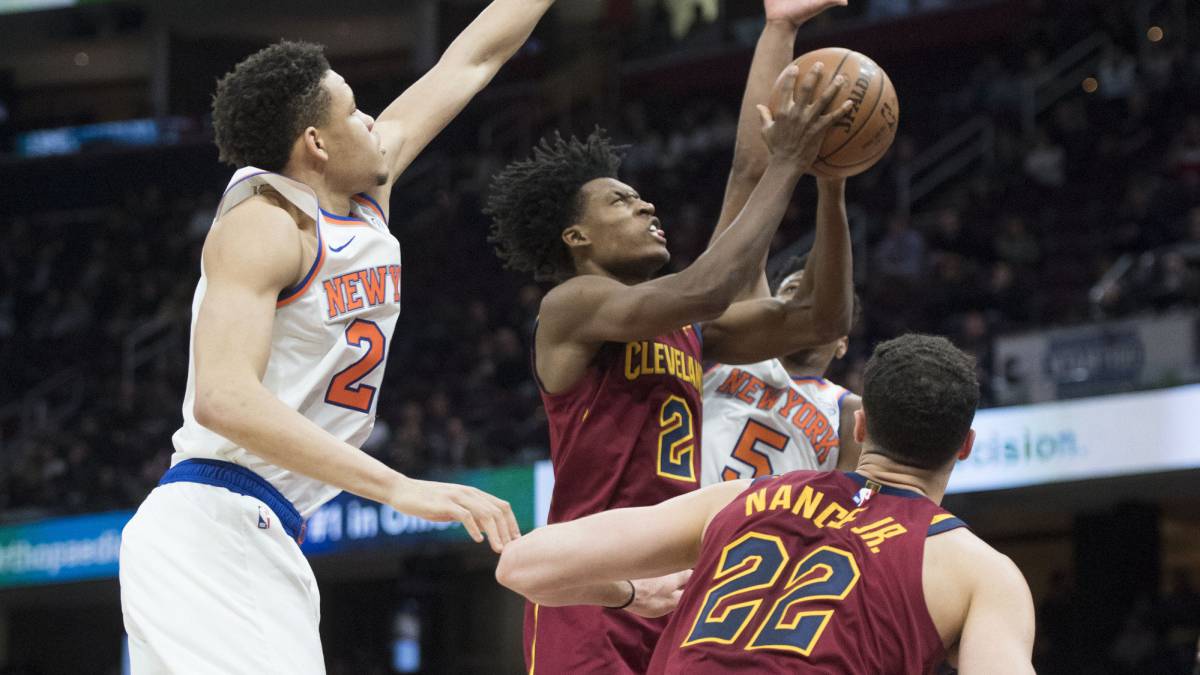 CLEVELAND CAVALIERS 107-NEW YORK KNICKS 104
It was the May 14 game: that day the draft lottery was celebrated and surely in the offices of Cavs and Knicks wanted to lose this game to multiply (not by much in reality) their options to become with Zion Williamson. That player different from everything that can be the beginning of a new era in New York or the end of the game (in sport, at least) at the time of LeBron James in Cleveland. Now, after 107-104 for the Cavs, 12-45 for these and 10-46 for the Knicks who are the worst team in the league (11-47 the Suns) .
Not only that: are the worst Knicks ever , with 17 defeats in a row and 30 in 32 games. Never in a season had they linked so many games without winning in a franchise that did lose 20 in a row two, between March and November 1984. His worst streak so far was 16 , in a 2014-15 season in which they only won 17 and that earned them a number 4 in the draft ... which was for Kristaps Porzingis, who is already in Dallas. The game ended with drama and between the Knicks, who rallied 17 points but could not finish in the last moments, when decisive shots missed Kornet, a John Jenkins who had signed in the morning a ten-day contract and Dennis Smith Jr, who finished with only 10 points. The top scorer was Kadeem Allen (25 and 6 assists). In the Cavs, Kevin Love played 16 minutes (all in the first half) and finished with 14 points and 9 rebounds. 15 + 16 for Larry Nance and contribution of everything that has been falling to the roster: Dellavedova, Chriss, Knight ... Without Tristan Thompson and Cedi Osman, the rookie Collin Sexto went to 20 points but without boasting: 7/21 in shots and only 1 assists. In short, it was the game of May 14 ...
DETROIT PISTONS 121-WASHINGTON WIZARDS 112
The Pistons (26-29) recover the eighth place of their Conference and have to shot the sixth of the Nets, a very cheap race in The desert east that extends beyond Bucks, Raptors, Sixers, Pacers and Celtics. But the reality is that Casey's team is playing well again after terrible weeks, has won four straight and has settled again in what are their obvious strengths: against the Wizards (121-112), well Reggie Jackson and very well again Blake Griffin (31 + 9 + 9, 20 points in the first half) with 32 + 17 and 4 steals by Andre Drummond. The shot they need to open the field was put by Kennard (15 points, 4 / 5 in triples) in a very gray Ellington debut (0/7 in triples). The Wizards are very short even for such a weak East outside the noble zone. Beal scored 32 points and gave 10 assists and Ariza finished with 23 and 5. They are very lonely.
INDIANA PACERS 99-CHARLOTTE HORNETS 90
The season of the Pacers is being extraordinary, with only 36 total games of a Victor Oladipo who will not play anymore . After four straight losses and in full depression for the fatality of his great star, and what seemed a checkmate to his meritorious season, Nate McMillan has raised his team admirably: 99-90 to the Hornets for the sexta victoria followed and a 38-19 that keeps him in third place of the East. Far away (24-33) are some sad Hornets, who will surely end up inertia in the playoffs but who can be very expensive in their search for important movements in the winter market: Kemba Walker, who finishes contract, scored 26 of his 34 points in a second part in which he tried almost without help a comeback that did not take place. In part for the dos three-pointers in the last four minutes of Wesley Matthews, who debuted for a team that returned to base itself on the work of Young (11 + 8 + 6), Turner (18 + 8) and Bogdanovic (14 points). Excellent Pacers.
CHICAGO BULLS 99-MILWAUKEE BUCKS 112
This is the influence of Giannis Antetokounmpo in the Bucks: he lost in the previous match the Magic and 83-103 in a disastrous night for his team. He returned and 99-112 (29 points more) for the still better team of the league (42-14 for the 40-15 of the Warriors). In numbers, Giannis finished with 29 points (29 points more ...), 17 rebounds and 8 assists against a Bulls that gave war, and they had 20 points and 17 rebounds from Markkanen and 18 + 7 from newcomer Otto Porter. With the injured, Carter, can form a great frontcourt of future for a Bulls that gave war until the partial 2-12 final of un Bucks in which still has not debuted Mirotic, who is still injured, and in those who contributed Bledsoe ( 19 points), Middleton (16) and Brogdon (17). The Bulls are at 13-44.
MINNESOTA TIMBERWOLVES 130-LA CLIPPERS 120
The Wolves (now 26-30) are not going to arrive in time to repeat a ticket for the playoffs, but they can influence the tremendous race that is looming in the West. Tonight pudThey were with Clippers remaining in 31-27, now ninth in a technical draw with the Kings (eighths) and with only one defeat less than the Lakers (tenths) . That fight (with the Spurs increasingly in danger, now seventh With 26 defeats) will be tremendous after the All Star. The Clippers showed the huge difference between a very loose quintet after the departure of Tobias Harris (31 total points, 12 of Gallinari) and a tremendous bench (the most scorer of the NBA : 51.6 on average) that added 89 points. 45 of Lou Williams (his top of the season), 15 of Shamet, 18 of Harrell, 11 of JaMychal Green ... But the difference between quintets (74-31) ended up being enough in favor of some Wolves without Wiggins but with Teague (19 points, 10 assists) and Derrick Rose (22 points). Towns finished with 24 points and 10 rebounds and Saric, starter, with 19 + 8.
Photos from as.com