Jasen: "I will always be tied to a rectangle and a ball"
The Argentinian, a legend in the Movistar Estudiantes, will be honored before the MoraBanc Andorra. Hours earlier, attend As.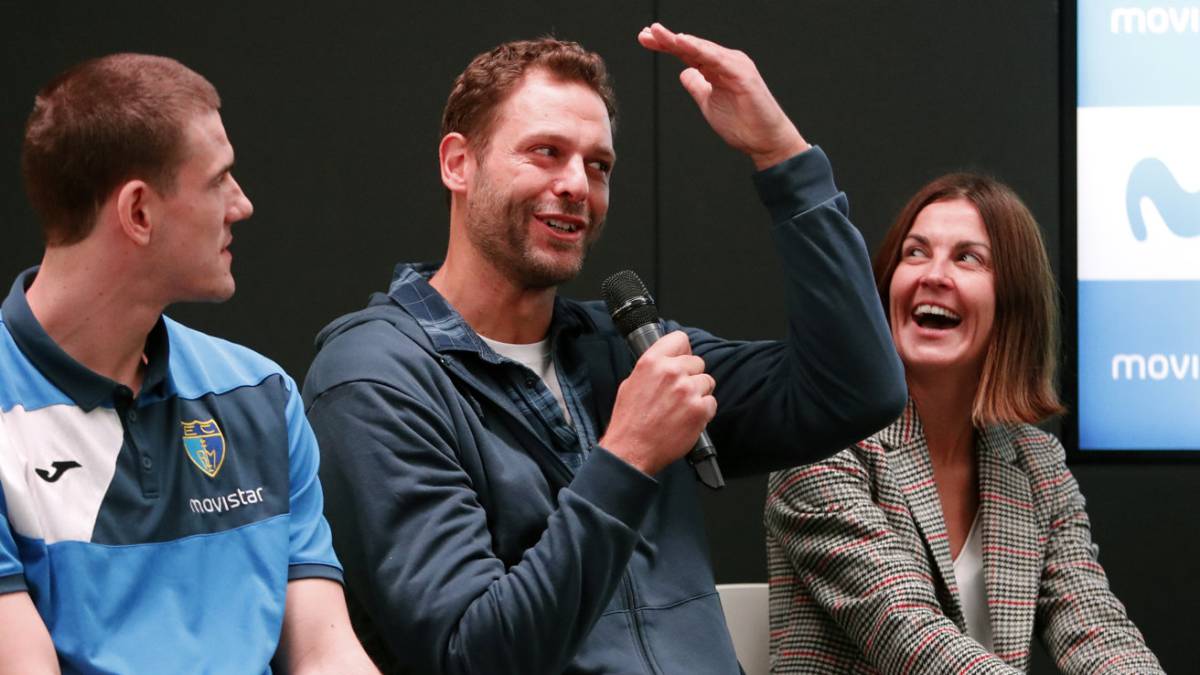 Hernán Emilio Pancho Jasen Cicarelli (February 4, 1978, Bahía Blanca, Argentina) will receive this Sunday a well-deserved tribute in the match between Movistar Estudiantes and MoraBanc Andorra (12:00, MD). The Argentinian is a legend in the Ramiro: he wore the collegiate shirt for ten seasons (from 2001 to 2011) and is the foreigner with more games in the history of the club with 343.
Garra, quality, character, charisma, the forward was important piece in that Estu that reached the end of the ACB in 2004 against Barcelona ... and that was saved from the decline in 2008. Hours before being welcomed by what was (and is) his hobby, he attends As in the Telefónica Flagship Store.
For the youngest ones, who was Pancho Jasen?
It was a young Argentinean who came with a lot of desire to play many games in Estudiantes. That he felt very comfortable since he arrived and that he tried his hardest to try to defend the values that I was learning from players like Nacho (Azofra), Alfonso (Reyes), Carlos (Jiménez), Gonzalo (Martínez) and Pepu himself ( Hernández) .
What does basketball mean to you?
All. Since I started playing in Bahía Blanca until I decided to retire. I look back and I realize that it was a very important part of my life, something that I still enjoy even if I do not do it professionally. I will always be tied to a rectangle and a ball.
And the Movistar Students?
Is my house in Spain. The place where I felt happiest both sporting and human. Memories, emotions, sensations ... important part of what my life is.
Is it the basketball that withdraws you or are you the one that retires from the basketball?
Diría that I leave the basketball. My biggest fear was knowing the moment when one has to make the decision to leave. I did not want to make posters. My head is still competitive, but you also have to understand that there are certain physical episodes that mark you. If you are not 100%, it is better to step aside. I struggled to make the decision, but I am convinced that it was time because my last year as a professional was one of the best I did in my city and I wanted to leave a good image.
Ginobili said he was tired of chasing young players down the track, Did it happen to you the same?
(laughs). Yes. To young people and to some who by age could be my children. In those moments you begin to realize that you are different in the sense of finding common things with them and not to mention inside a clue! Because, obviously, they pass over you. I have suffered that, as I also enjoyed it when I was young and I played against more 'big'.
What do you do now? Fishing like Nocioni?
Pesco ... I like ... I'm not very good, but I'm learning little by little (laughs). I spend my free time with my family because before I traveled a lot and I missed not being with them. Especially now with the youngest, who is five years old. I am continually with him. With the big ones too, but the little one had it when I started traveling less and enjoying more. I am also very involved in the club where I was born: the club Alem. Simple, neighborhood, in Bahía Blanca. And I do everything: manager, coach, player and whatever it takes. Even if you have to carry the water, I do it.
Do you see in the future on a bench?
These are big words. Yes I like to train, but especially in smaller categories and educate the kids. I think there is a lot to teach, and not just basketball, as values, as knowing that for this you have to make an effort and give everything ... and even then it is very difficult to reach. Today we are in a world in which we all believe, mainly parents, that we have a Leo Messi, a Cristiano Ronaldo, a Ginobili or a Pau Gasol. And it is not like that. It is very difficult to achieve it. You have to work hard and, well and everything, there is a lot of competition. What tomorrow I would like to address to seniors? It may be, but that will come in its time. So for the time being with the boys and in the future it will be seen.
The Golden Generation of Argentina is taking its last steps, but there is a future in the selection of its country with the Campazzo, Deck, Garino ...
I see very well this new group. They are competing at a very high level, in teams that are going to fight for the eight positions above and this will keep growing. They are a breath of fresh air that we have as a team and that will allow us to continue fighting internationally to be in World Cups and Olympic Games, which is very difficult. We get dirty. It's good that these guys are the ambassadors for those who watch basketball in Argentina.
Campazzo went from almost noto be for Madrid to be its leader. Are you surprised?
It may surprise you because doing it at Real Madrid is very difficult. Succeeding in such a demanding club is not for everyone and it seems to me that he, by his charisma and his character, succeeded. Internally, he knows that he is very competitive and that has made him fight every day to achieve the position he has. He had to spend hard moments like going to play in Murcia, where he grew up. But all that served him to mature and, today, is a key player for Pablo Laso.
What was his best partner?
Le could say that Nacho (Azofra). In my first year at the students, it was difficult for me to adapt and I always had it with me. He told me 'calm, this will come out little by little'. He gave me all the confidence in the world to make things right.
Your best memory?
The classification for the final of the ACB. We won in Vitoria al Baskonia in an epic match against a team. How we enjoy that moment together. That fifth game I will never forget.
And the worst?
The day of the injury in the semifinal of the Final Four of the FIBA Cup against Girona. It was the most serious I had, in the right knee. He marked me.
And one that he would like to change?
The fifth game of the final against Barcelona. Or one of the five that we played against them to get that title we had at hand and we ended up escaping for a little bit.
Photos from as.com