Raúl Navas: "Winning the derby in Anoeta would be a rush"
The Sevillian central Real Sociedad played again two months after his injury, self-criticized for the sad draw against bottom side and looks at the derby against Athletic.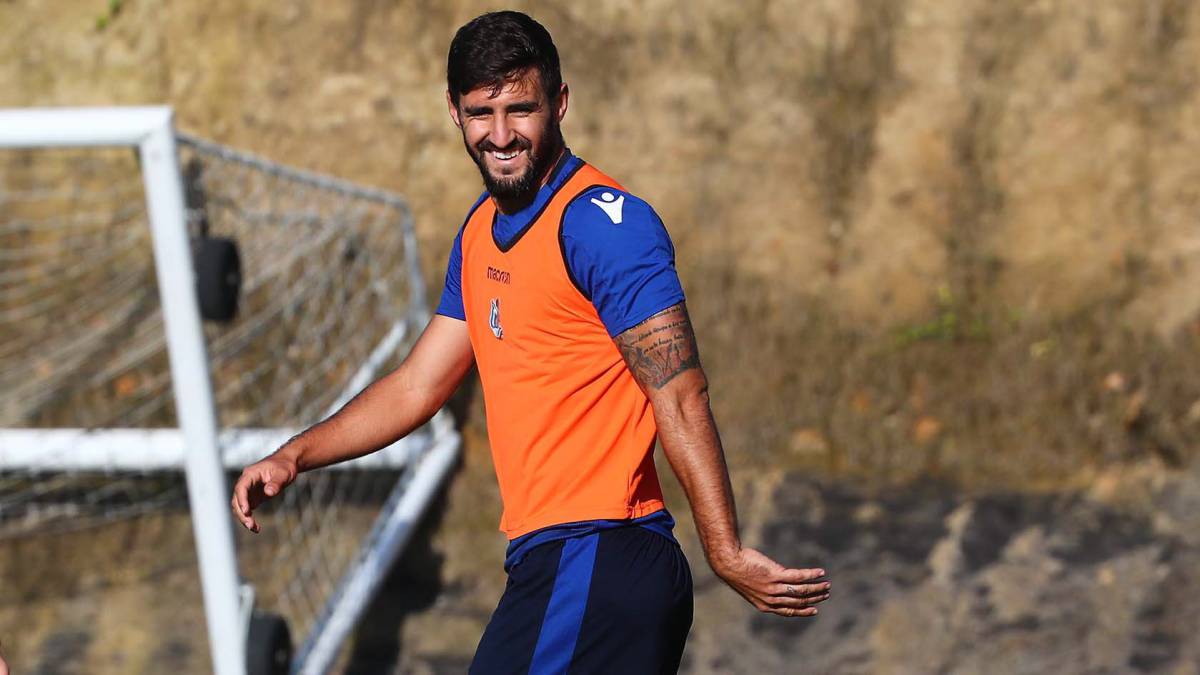 Raúl Navas returns to smile. Two months after getting injured, he returns to a pitch, and he does it leaving good feelings on an individual level, despite the disappointment of the draw against Huesca. The Sevillian self-criticizes and looks at the Basque derby against the Athletic of Gaizka Garitano, with which he coincided in the historic Eibar that amounted to Primera.
-What qualifies him to draw against Huesca?
Partido very rocky. They made a very good defensive match and did not leave us any space inside, which is what we were looking for, and in the end arriving by band is more complicated. Defensively they were very good.
-Did they frustrate that match?
It is not frustrating, but it does cause impatience, because they close very well and you see that the result does not reach you.
Again, another lost opportunity to get hooked definitively to that European fight ...
Yes, but even if they are down, they did a great defensive job. And we lacked a little more demarcation, arrival by clearer bands, and all that needs to be improved, and it will surely improve.
-Returning to a pitch two months later, how was it found?
Well , the main thing was not to find discomfort again, that's how it was, I was physically well, and I ended up happy.
-Did rhythm work well? Did you notice the inactivity?
Well, in the end it has been two months stopped, but after three weeks training I was able to catch it to surrender against Huesca.
-Imanol took all the blame for that draw against Huesca, as if I would like to protect you from something ...
It's not the coach's fault. Because we who play are the players, and it's not about blaming someone. We must continue fighting to get the results, we won, but we did not lose either, it is a summed point that is good at the end of the year.
-Is there a lack of speed when moving the ball?
May be. They closed us inside, they complicated the intention that we had and we did not know how to look for the gaps they left us, and we have to see and analyze the ways to get better against very closed defenses.
-Do you notice that they are better now? with the change of coach?
Yes. The team now takes more responsibility with the ball, which is what all the players in the squad like. And I think we make an offensive and defensive effort to balance that aspect. And in the end when the result does not arrive, annoying, but we must continue on the same line.
-Do you find an explanation for not winning a game with 70% possession?
We will have to analyze the reason why we did not occasions to score goals and win, and we will have to reverse that situation. It's no use having the ball if we do not throw away then.
-Is the disappointment against Huesca cured with a victory in the Basque derby?
May be, we'll try. Both for the fans and for us it would be a rush. We seek to get closer to Europe to compete with the best.
-But for that you have to win an Athletic that is now very well with Gaizka Garitano ...
It's true, since Gaizka has caught it they have not lost, because it will be nice , because we have not lost either with Imanol.
-What good memories to the orders of Gaizka Garitano in Eibar! Right?
Yes, yes. It was three very nice years with him, I am very grateful, I appreciate him, but he will be my opponent this week and I want him to have his first defeat.
-Do you see in this Athletic aspects that Eibar also had in which they coincided?
For I can not tell you, because I still have not seen any Athletic match this year.
-But seeing the equality that there is in this league, do you foresee a matched derby?
May be, yes, because in the end all matches are matched In that sense, the league is very beautiful. And the derby will be the same, it is what I believe, but with our victory, of course.
Photos from as.com