Djokovic: "Rafa is an example of struggle and spirit of sacrifice"
The Serbian was very affectionate with Nadal in his speech as champion of the Australian Open. "I've also gone through injuries and through the operating room and being here today, with the title, is incredible."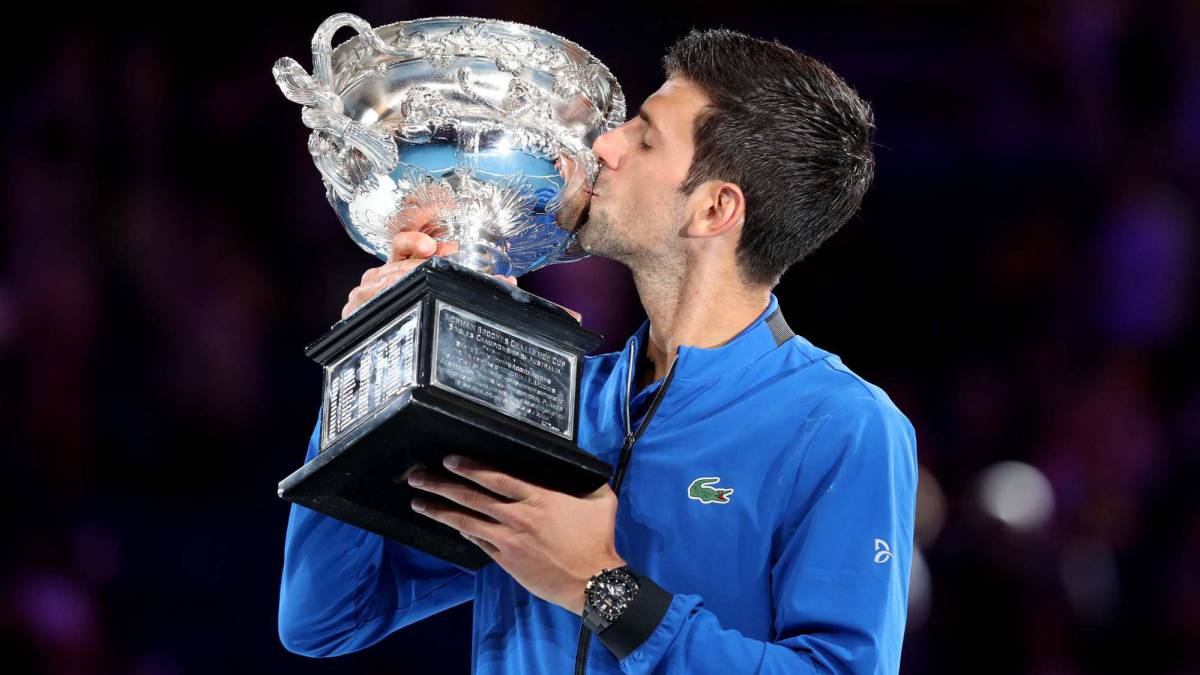 Christian speech given by Novak Djokovic to Rafael Nadal after winning the Australian Open final on Sunday (3-6, 2-6 and 3-6). "It was a tough game today, you came back from an injury (to Rafa), something that has always haunted you, and you have taught me and many other players in the world what an example of fighting and sacrificial spirit is in a tennis player (he gets emotional) ", were the words of the Serbian, who identified himself with Rafa on the verge of crying:" I have also been injured and have gone through surgery in recent times, and to be here today in front of You, with this title, it's really amazing, I'm speechless. "
As well as the manacorense, Djokovic distributed praise and thanks to right and left. First for your team "I would like to thank my team for the support, this is an individual sport but they are always behind me." Thank you for coming back Marian (to Vajda, your coach), thanks to my physio for taking care of my body ". Y Then for your whole family: "I want to say hello to my wife and my children, I hope you are seeing me." You know, trophies are more special when there is someone to share them with, I want to do it with them, with my brothers and my parents. His unconditional love and support and the time they have sacrificed so that I could be here is something I will never take for granted. "
There was no shortage for the tournament, considered by many the best of the circuit: "I want to emphasize what Rafa said This is a great tournament, in a vibrant city, with good weather, and the work you do to make us comfortable and the respect of the people to the tennis players confirm it as the best tournament in the world. I can not wait to return next year. "
" I hope we have many coincidences in several surfaces "
Mats Wilander described his performance as an absolute perfection. Do you think that this Sunday is your best performances in Grand Slam finals?
It is in a higher place within them. Playing against Nadal, such an important game, yes, it's incredible. Between the semifinals and the final, I think I made 15 unforced errors in total. I'm also quite surprised myself, although I always think I can play that way. In these circumstances, it was a perfect combination.
Both you and Rafa commented in the trophy that this is the best tournament in the world.
As Rafa said on the track, there is probably no other tournament in the world that strives so hard to improve its facilities and services for players, fans and the media. It is a tournament that sets the bar high enough for the other Grand Slams and the rest of the tournaments. Undoubtedly, this is the best Grand Slam, the most friendly for the players.
What was the key to his victory?
Get started well in the game. Going out with the right intensity, trying to be aggressive, protecting the line and making him feel pressure, obviously that was the game plan. I managed to get a crucial break in the second game and get 3-0 in less than 10 minutes. That was very important because Nadal always leaves with a lot of intensity to the track, 100% of his concentration and determination. The energy and power he puts into his punches is intimidating from the first point of the match. But that makes you more alert. I was waiting for that.
If someone had told you last year that you would be sitting here, having won three Grand Slams in a row, what would you have thought?
What was not It is not impossible, but very unlikely. I do not want to sound arrogant, but I always believe in myself. I think that is probably the biggest secret of my success. You have to know how to face adversity, visualize yourself as a winner, trying to be in a positive mood. It's much easier to say than to do it, obviously. I am a true believer in visualization. I do it a lot. I think I had to do it more than ever in my life 12 months ago after the operation because I was not playing well, I did not feel good on the court, I was questioning everything. It was a great learning curve for me, the whole process was very special. I embraced the trip. I am very grateful to go through it. I would never change anything if I could go back in time, because things are exactly as they should be.
Probably you are the only player who has resolved the confrontation against Nadal tactically. Do you feel as if you have discovered it? What kind of tactical discipline does it require?
I do not mean that I discovered it, because I do not want that to turn against me in the future. I could have discovered it for this game, pNot for what's coming. I am sure that we are still going to have many coincidences in different surfaces. I hope we do it because this rivalry has been the most significant, the one that impacted me most personally and professionally in my life. Your service has improved. At the same time, I also worked on mine. One thing is for sure: we will both strive to improve in the future, regardless of what happens.
Photos from as.com