Stéphane and Cyril, Mini champions and riders, chat with Ace about their life in the desert race. "Every January I swear I will not return," says 'Monsieur Dakar'.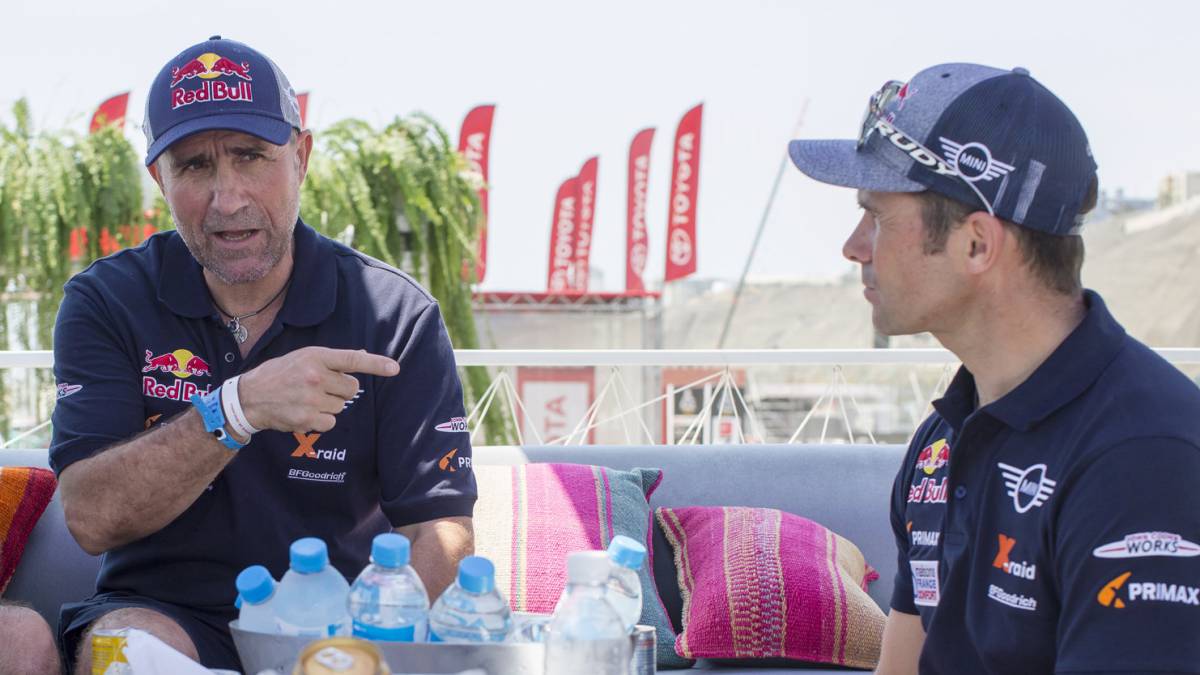 -We will leave aside the classifications, the problems of the car, the dunes ... are you having fun in this Dakar?
-Stéphane Peterhansel: It's a mixture of fun and stress. We try to give our best, there is a victory at the end and it is never something relaxed or comfortable. At times you have fun, but I would say there is more stress than fun.
-Cyril Despres: You have a flash of 10 or 20 kilometers of fun. But honestly, I have never had a full day of fun.
: Cyril is like me, normally we have always fought for victory. In that situation this stops being fun. The Dakar is your goal of the year, you have to be good in this race. The Rally of Morocco, for example, can not be compared. With so much responsibility and pressure you stop having fun. Do not know, Cyril.
-CD: Yes, for me the only moment of real fun is when you get on the podium after having given the best of you, with passion for what you do and with love, at that moment it is funny. It was fun five times for me (laughs) .
-Y 13 times for Stéphane.
-CD: Yes, but ... (thinks a few seconds) fun is not a word that uses a lot.
-SP: As it says Cyril, 'fun' is not a valid word for the Dakar.
-CD: A few days ago we spent 13 hours in a car. That does not have anything of fun, although we know to what we come. What we like is to achieve an objective, but the process to achieve it, the efforts during so many months, the training ... Maybe watching the Dakar on television is fun, or I hope that at least for you, that you are a journalist, it is fun to be here.
-Can you imagine a free January? On vacation?
-SP: Every year the same thing happens to me. I'm here playing it for 15 days, sometimes with a victory, sometimes with a bad result, and I wonder why I work so hard, so much commitment, so much stress ... maybe it's too much, I have to stop. But two months later I say: 'Shit !, in the end I need that adrenaline'.
-Every January 20 they swear it's the last ...
-SP: That's right, I tell myself I'm not back.
-CD: I am a little younger than Stéphane, I have competed less, but I am very proud to have finished 17 dakars in 18 participations. The one who did not finish was in January at my house and it was not funny at all. It happened to me once and it was very hard, so I can not think of anything better to use my time in January than to come here.
-The two have run on motorcycles and cars. Would they still be running on a motorcycle if it was not so dangerous?
-SP: Now when I see the level of the motorcycle riders, who are very fast, I feel very old to do something like that. I do not miss it, at all. I love it, but I would never do it again.
-CD: I've really enjoyed my life on two wheels, for many years I did not even imagine what would happen to cars, but as soon as I did I saw the sport from another perspective and It seems impossible to ride a motorcycle now. It is very demanding, too, although deep down I am a motorcycle racer, from a very young age it is my passion and I still do not fully understand the sensations of a car driver. I feel locked in.
-It makes you want to support your leg on the ground.
-CD: Yes, sometimes, and you miss the freedom that a motorcycle rider has.
-Motorcycle riders see more things that the car pilots.
-CD: You see more and you feel more. You are closer to the elements, you feel the heat, you smell it. The cold, the snow, the rain.
: That's.
-Now they share equipment, how is that?
-CD: We do not really run together, I just run with my co-pilot.
- SP: Besides, we do not fight on the track, you compete against time. You are never directly against your competitor, or rarely, although my spirit with Cyril is the same as before with Nani, we come from the bike, we understand each other and if we can help, we will do it. Cyril has done it several times with me, and I have done it with him. The spirit of the motorcycle riders is good.
-Which of you was the best motorcycle rider?
-CD: In trial, I'm sure.
: He was more professional than me, he won five. How many entries?
-CD: Many. 14?
-SP: 14. And he was very strict in his preparation, the physicist, the motorbike, the navigation ... Although by speed I was probably faster because I came from Enduro and won the World Cup twice. Cyril did not start in Enduro, he started in Trial. Like Bou. But it's probably faster now, because he's younger.
-Many people think thatIt was more difficult to win the Dakar on motorcycles at the time of Coma and Despres, or at the time of Peterhansel, than now. What do you think?
-CD: In the time of Stéphane there were many competitors, but he won them all. In my time we were two, Marc and I, and the rest were not at that level. Now there are many more pilots, but ...
-SP: There is no leader, there are six or seven capable of winning. It's a very interesting race.
-CD: Very open, you can not say who will win.
-SP: In the time of Cyril and Marc you already knew that he was going to win one of the two.
-CD: But the others also tried it!
-SP: Yes, but your level was higher. Now it is very interesting.
-This year the co-pilots have been exchanged. Do you make any comparison?
-SP: No, David has never compared.
-CD: The specials change, the cars change and the mistakes also change, whether they are of the driver or the co-pilot.
-Do they still share a caravan?
-SP: Yes, he cleans and I take care of the air conditioning.
-Are they good neighbors?
-CD: Sure! He brings cheese from Switzerland and me, the meat from Andorra.
-SP: When I was with Nani it was similar. I already tell you, the motorcycle riders are simpler and it is easier for us to spend time together.
-CD: We both have our place, he in the background and I in front. The refrigerator is in half.
-What do you miss when you come here?
-SP: Before, in Africa, you missed a good bed and a good shower. Now we have it, there are also telephones, it's easier to come.
-And what will they miss when they stop coming?
-CD: Life would be more boring without running. The first year I stop coming, I think it will be a very dull month of January. I can not even imagine, not coming to the Dakar will be very boring.
-Thank you very much, good Dakar.
-SP: Okay, it was fun.
-CD: You're welcome! (in Spanish) .
Photos from as.com