Cristiano reinforces the leadership
La Vecchia Signora suffered a lot against a great Lazio, but Cancelo and Ronaldo signed the victory and extended the lead over Napoli to 11 points.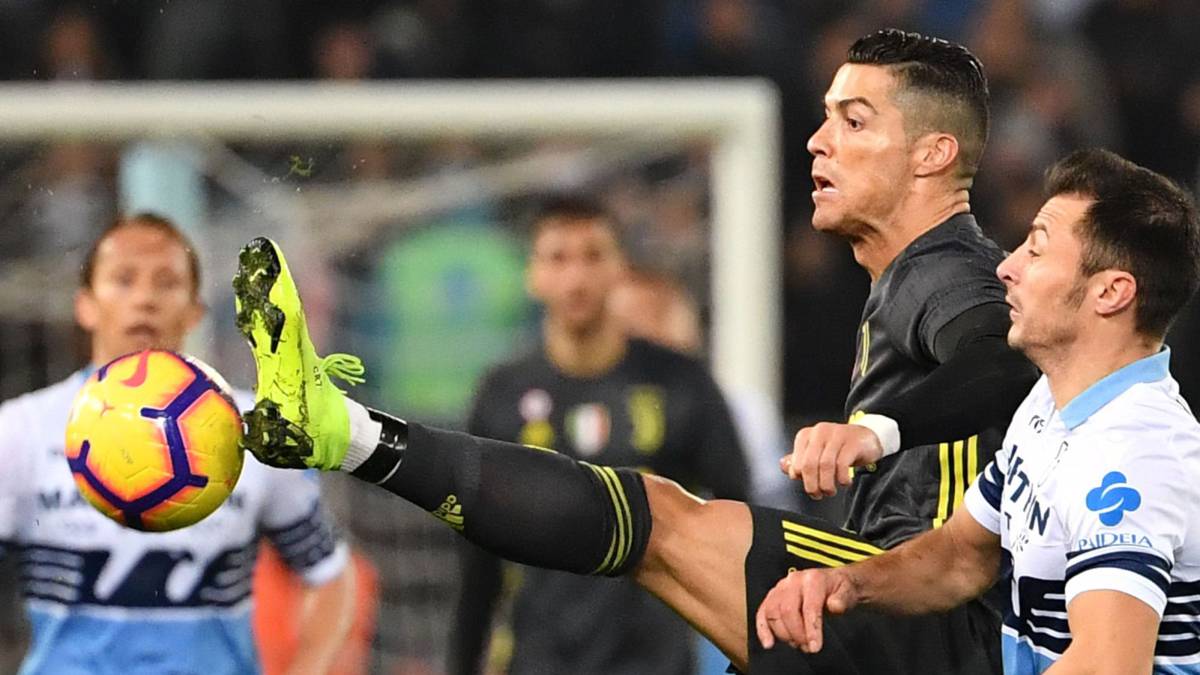 Juventus lose points on one of their worst nights of the : course. The Italian champions won 2-1 against Lazio at home despite the recital of their rivals, who dominated much of the match and had to surrender to cruel pragmatism (and the talents) of the untouchable leader of the Serie A.
Following the almost 60,000 fans of the Olympic, the biancocelesti were coherent with the offensive line-up that Simone Inzaghi chose: Luis Alberto, Milinkovic-Savic, Immobile and Correa were both starters and the aggression of the whole Roman suffered much to the Vecchia Signora, who in the first half had no chance for their strikers (Christian, Douglas Costa and Dybala) .
Szczesny, however, had a lot of work: before the break he had already executed four stops (impressive one after a shot from Parolo) and when Immobile overtook him with a Vaseline, Rugani intervened, who rejected him a few steps of the goal line. To finish the horrible first half Bianconera came the injury of Bonucci, who left the field in the 40 'because of an ankle problem.
El Lazio continued reciting the same script in the resumption, and reaped its fruits when he had already 12 shots against one. Of course, it took some luck: the goal was scored by Emre Can, who deflected a corner from Luis Alberto at 59'. after the goal, besides, the Inzaghi had at least three more chances to sentence (Immobile shot high only before Szczesny), but they made the fatal mistake of leaving the Vecchia Signora alive.
Les cost very expensive: Juve woke up suddenly, in 74 ', with the revulsives of Allegri, Bernardeschi and Cancelo. The first, after a great race, focused for Dybala, whose shot was neutralized by Strakosha: there appeared the second, who pushed between the goals of 1-1. The goal put out the locals, and the Turin were not satisfied with the tie: in 87 ', the referee whistled for a penalty Lulic to Cancelo, and from the eleven meters, obviously, Cristiano was presented. The exmadridista, this time, did not fail, canceling the error before Chievo and adding 15 goals in Calcio (five of which with maximum penalty) .
Cancelo, shortly after, wasted a great opportunity for the sentence and Lazio, which he deserved much more, he looked for the 2-2 until the final whistle, when a free kick from Milinkovic-Savic from the front ended up outside and killed his hopes. At the same time, perhaps, it also ended with the fight for the Scudetto: Juve's advantage over Napoli, now, is 11 points. Imagine taking the lead to a team capable of achieving 19 victories and two draws in 21 days and is utopia.
Photos from as.com