Carlos Sainz and Luis Moya, in the Hall of Fame of the FIA
On the occasion of the 40th anniversary of the drivers' title, it has been inaugurated in Paris with the presence of several champions of all times.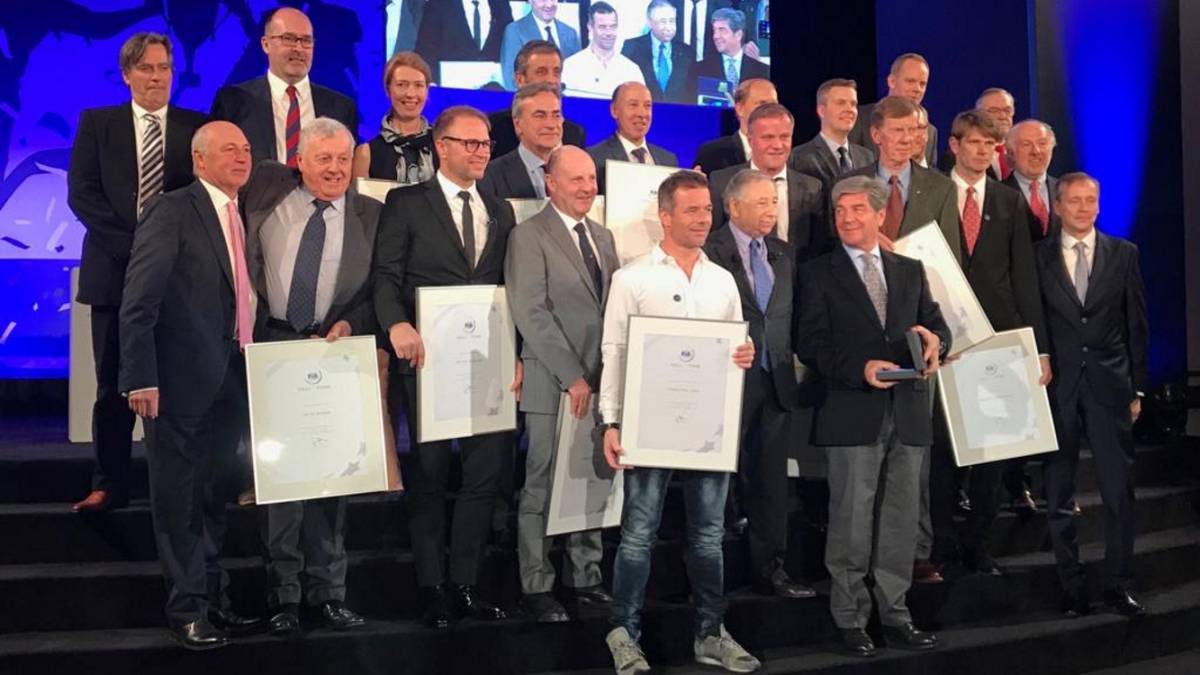 Four decades of champions gathered in Paris. The International Automobile Federation wanted to commemorate the fortieth anniversary of the first World Championship of pilots with the inauguration of the Hall of Fame of the specialty in the French capital. And, of course, there were the two-time Spanish champions in 1990 and 1992, Carlos Sainz and Luis Moya.
El Madrileño and Galician met with nine other champions of all time. Sebastien Loeb, Tommi Makinen, Walter Röhrl, Ari Vatanen, Miki Biasion, Marcus Gronholm, Dicier Auriol and Petter Solberg attended the meeting, which recalled the missing champions, Bjorn Waldegaard, Colin McRae and Richard Burns. The outstanding absences were those of Sebastien Ogier, Juha Kankkunen, Hannu Mikkola, Stig Blomqvist and Timo Salonen.
In his speech, Sainz said excitedly that "I want to thank everyone. To the most veterans for transmitting my passion for rallies, which impelled me to be a pilot. To those who have fought with me, thanks for the great battles, that I have great respect for their talent. And to those who are still competing now, to maintain my passion for rallies. I want to thank the president of the FIA for this event. It has been fantastic to see so many old friends, and I want to remember the three pilots who are not here, Waldegaard, Burns and McRae, and I also want to remember Ove Andersson, who helped me so much. And of course to Luis Moya, without whose help it would have been impossible to be here. "
El Galician meanwhile said that" without wanting to disrespect anyone, I think Carlos has been the best driver when putting the cars to the point of history. In all the teams he has competed in, he has achieved a winning car, and even now in the Dakar he continues to do the same. "
FIA President Jean Todt affirmed that" the Hall of The Fame of the FIA recognizes the successes of our World Champions. With the rally champions, who now join the Formula One in the Hall of Fame of the FIA, adds another storyboard documenting a fascinating journey to through time, both with the pilots, co-pilots and with their machines. See the progress we have made in security over the decades is particularly nice and one of the highlights in the ongoing evolution of the championship. When you see the cars of so many times, the developments of the technology are also evident. The stars of the World Rally Championship have so many captivating stories to tell, that I am sure they will not only fascinate the rally fans, but, hopefully, inspire future generations ".
All the champions
2018 Sebastien Ogier (Ford Fiesta WRC) 2017 Sebastien Ogier (Ford Fiesta WRC) 2016 Sebastien Ogier (Volkswagen Polo WRC) 2015 Sebastien Ogier (Volkswagen Polo WRC) 2014 Sebastien Ogier (Volkswagen Polo WRC) 2013 Sebastien Ogier (Volkswagen Polo WRC) 2012 Sebastien Loeb (Citroën DS3 WRC) ) 2011 Sebastien Loeb (Citroen DS3 WRC) 2010 Sebastien Loeb (Citroën C4 WRC) 2009 Sebastien Loeb (Citroën C4 WRC) 2008 Sebastien Loeb (Citroën C4 WRC) 2007 Sebastien Loeb (Citroen C4 WRC) 2006 Sebastien Loeb (Citroën Xsara WRC) 2005 Sebastien Loeb (Citroën Xsara WRC) 2004 Sebastien Loeb (Citroën Xsara WRC) 2003 Petter Solberg (Subaru Impreza WRC) 2002 Marcus Gronholm (Peugeot 206 WRC) 2001 Richard Burns (Subaru Impreza WRC) ) 2000 Marcus Gronholm (Peugeot 206 WRC) 1999 Tommi Makinen (Mitsubishi Lancer Evolution) 1998 Tommi Makinen (Mitsubishi Lancer Evolution) 1997 Tommi Makinen (Mitsubishi Lancer Evolution) 1996 Tommi Makinen (Mitsubishi Lancer Evolution) 1995 Colin McRae (Subaru Impreza 555) 1994 Didier Auriol (Toyota Celica turbo 4WD) 1993 Juha Kankkunen (Toyota Celica Turbo 4WD) 1992 Carlos Sainz (Toyota Celica Turbo 4WD) 1991 Juha Kankkunen (Lancia Delta Integrale) 1990 Carlos Sainz (Toyota Celica GT-Four) 1989 Miki Biasion (Lancia Delta Integrale) 1988 Miki Biasion (Lancia Delta HF 4WD / Integrale) 1987 Juha Kankkunen (Lancia Delta HF 4WD) 1986 Juha Kankkunen (Peugeot 205 Turbo 16 E2) 1985 Timo Salonen (Peugeot 205 Turbo 16) 1984 Stig Blomqvist (Audi Quattro / Sport Quattro ) 1983 Hannu Mikkola (Audi Quattro) 1982 Walter Rohrl (Opel Ascona 400) 1981 Ari Vatanen (Ford Escort RS) 1980 Walter Rohrl (Fiat Abarth 131) 1979 Bjorn Waldegaard (Ford Escort RS / Mercedes 450 SLC 5.0)
Photos from as.com